Brushed to Complexion Perfection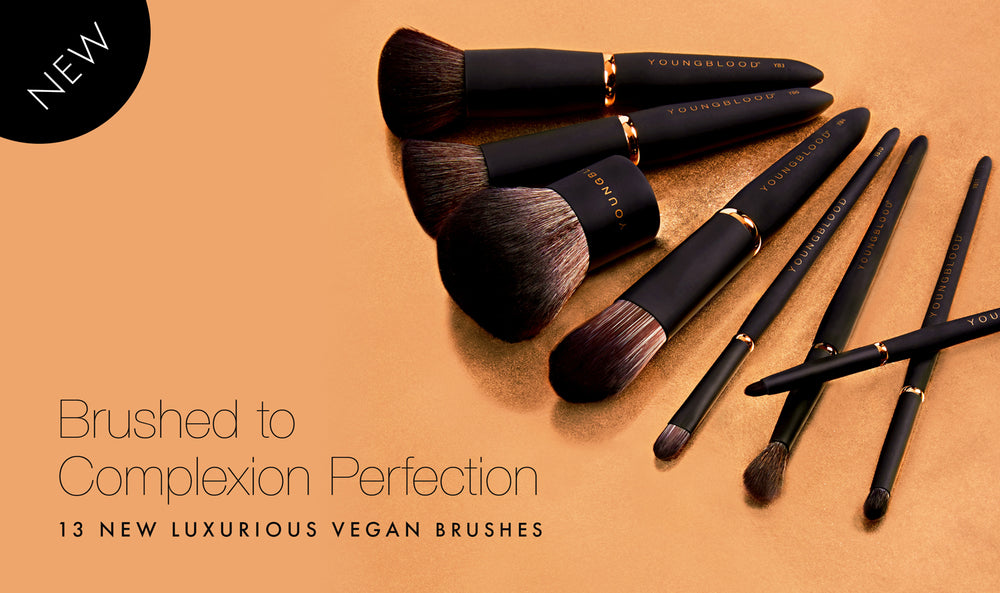 Introducing our brand NEW 13 Piece Luxe Brush Range
The perfect makeup, requires the perfect tools and a good makeup brush can change your whole makeup game. Enter, our long-awaited and highly anticipated Luxe Brush Collection.
The 13 brushes are amazingly soft, expertly precise and beautifully designed. Handcrafted with artist-quality Taklon synthetic fibres, these Vegan and PETA-certified cruelty-free will ensure makeup application is impeccable!
This luxurious collection of brushes will work effortlessly with all your favourite Youngblood products. From blending to buffing and everything in-between, the tools in which you use to apply and perfect your makeup look.
Let's take a look at what each and every one of the brushes in the collection has to offer!
YB1 –  Kabuki Brush
The Kabuki is the perfect brush to pair with our #1 best-selling Loose Mineral Foundation. The dome bristles distributes loose and pressed powders for a perfectly airbrushed finish.
YB2 – Powder Brush
A large, tapered brush applies loose and pressed powders for an even, smooth complexion. Works best with our Loose Mineral Foundation,  Loose Mineral Rice Setting Powder and our Hi-Definition Hydrating Mineral Perfecting Powder.
YB3 – Liquid Buffing Brush
Our Liquid Buffing Brush is a round, densely-packed brush that buffs & builds liquid formula for a seamless application and airbrushed finish. Use this brush with our Liquid Mineral Foundation or our Creme to Powder Foundation
YB4 – Foundation Brush
The perfect firm, flat brush to help distribute Foundation, Primer, Moisturiser, and more.
YB5 –  Cheek Brush
The YB5 is an oval, tapered multitasking brush to sculpt cheekbones and add a flush of colour to cheeks with one of our Pressed  or Crushed Mineral Blushes.
YB6 – Powder Buffing Brush 
Our Powder Buffing Brush is a flat top blending brush to buff liquid foundation and blends in powders for a moderate to full coverage application.
YB7 – Highlight Brush 
The YB7 is a tapered, oval brush designed to diffuse colour and blend seamlessly to easily glide on your level of luminosity.
YB8 –  Tapered Blending Brush
The Tapered Blending Blush works to expertly apply a transition colour to the crease of the eye and soften harsh lines for a seamless eyeshadow look, best used with our Pressed Mineral Eyeshadow Quad.
YB9 –  Shader Brush
Effortlessly apply and pack eyeshadow on the lid with our YB9 brush to reflect eyeshadows high-pigment with its short, dense fibres.
YB10 –  Precision Concealer Brush
The YB10 is the perfect flat-sided brush for applying our creamy Concealer formulas as it precisely covers blemishes and under-eye imperfections for a flawless finish.
YB11 – Crease Brush
Pack colour to the outer end and crease of eyes with the YB11's short and precise fibres using our Limited Edition Enchanted Eyeshadow Palette.
YB12 – Line Perfecting Brush
Smoothly apply your eyeliner and defines the brows with the Line Perfecting Brush and its angled brush edge. Dip into any gel to powder formulas like our Incredible Wear Gel Liner for the perfect wing liner and or our Brow Artiste Wax for structured brows.
YB13 – Pencil Brush
Create the perfect line with control and precision with the YB13's extra-long handle and small tapered head for ultimate control. Use with any gel liner, eyeshadow or lip product. Works perfectly with our Lip Liner Pencil.
Back to Blog