How Youngblood Liquid Mineral Foundation is Redefining Clean Luxury Beauty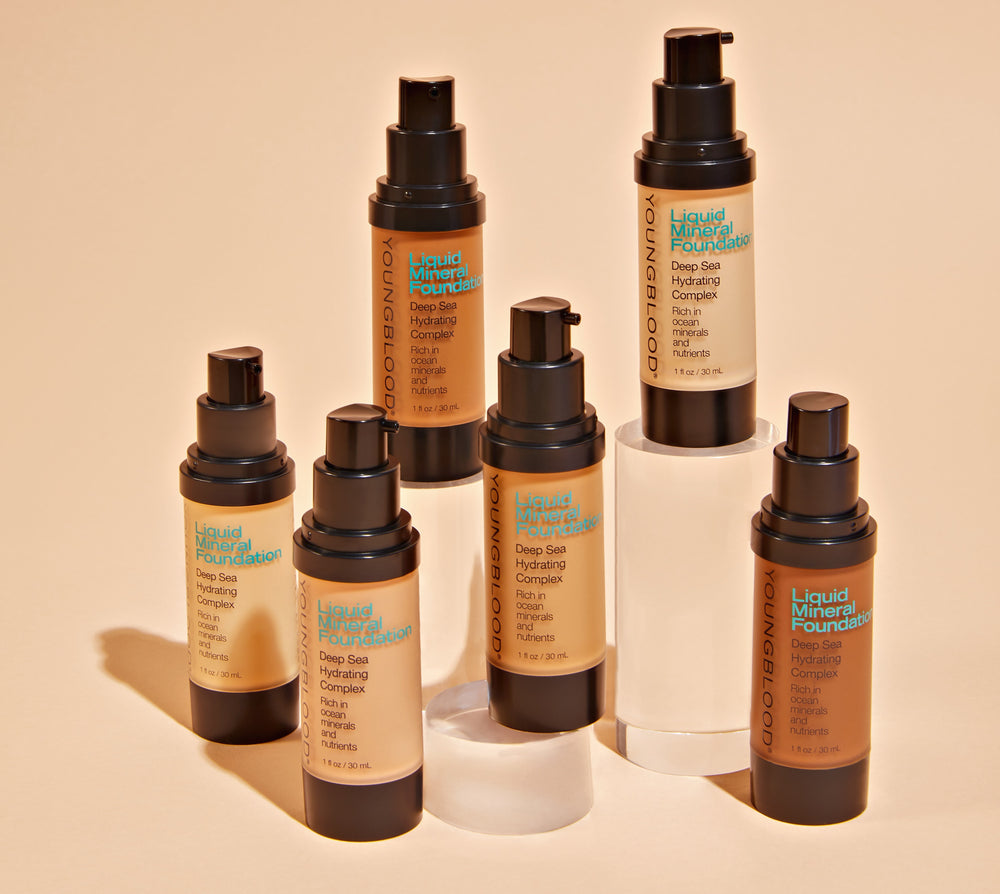 The fan-favourite, Liquid Mineral Foundation provides moisture to dehydrated skin and imparts a healthy, natural radiance that lasts as it indulges skin in hydration and a blend of skincare quality ingredients.
Fortified by our signature, award-winning, Deep-Sea Hydrating Complex which possesses minerals extracted from deep sea waters, that work to repair and soothe damaged or inflamed skin. We ensure the highest quality of minerals are obtained from oceans around the globe where the deep-sea water is higher in purity and rich with nutrients compared to traditional ocean extracts. This complex instantly uncovers a silky-smooth, radiant complexion when the foundation is applied to skin.
The minerals within the deep-sea complex work by stimulating skin cell regeneration so skin appears youthful and hydrated. Skin conditions such as rosacea and eczema are instantly soothed as the healing minerals found in the complex combat inflammation by decreasing the access of inflammatory cells. Skin is continuously hydrated and its barrier is strengthened to maintain a glowing complexion.
Youngblood Liquid Mineral Foundation Cares for Skin While it Covers!
With a unique blend of soothing botanicals - skin is also treated to a skincare quality blend of soothing Calendula, Green Tea, Cucumber and Cactus Flower. Instantly see and feel a unified complexion with improved nourishment, hydration and protection. Find out the key ingredients of our Liquid Mineral Foundation that makes this formula so well-loved.
Key Ingredients:
Squalane: Balances oil production while providing enough moisture to keep the skin clear, healthy and resilient.
Cactus Flower Extract: Calms inflammation and maintains natural skin moisture for optimal hydration.
Cucumber Extract: Possesses moisturising properties to soothe and relieve puffy skin.
Plantain Leaf Extract: Minimizes the appearance of pores while carrying moisturising and skin-soothing properties.
Calendula Flower Extract: Heals and soothes skin with anti-inflammatory, anti-bacterial properties.
Green Tea Leaf Extract: A powerful antioxidant with anti-inflammatory properties that also preserves the natural moisture barrier of the skin.
Chamomile Flower Extract: Calming and soothing properties
Magnolia Bark Extract: A potent anti-wrinkle, anti-inflammatory ingredient that prevents the loss of skin elasticity and reduces redness.
Willow Bark Extract: Helps reduce signs of aging and the appearance of wrinkles, enlarged pores while controlling excess oil.
Grapefruit Extract: Helps tone and firm skin.
Our Youngblood Liquid Mineral Foundation is available in sixteen beautiful shades to match a wide range of skin colours and tones. Delivering a flawlessly, healthy complexion for skin types that err on the side of dry, dehydrated, normal and combination.
Back to Blog