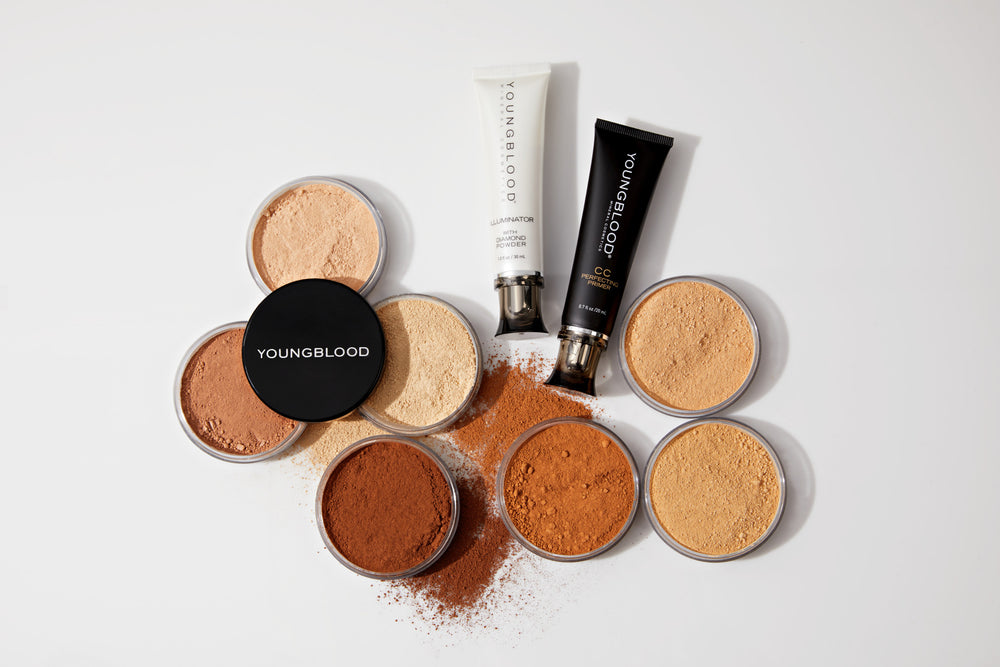 How to Make your Makeup Last All Day!
As we continue to adjust to new changes of the roller coaster that is COVID-19, wearing a face mask has been a huge part of these changes. Though face masks are of the utmost importance during the pandemic, cloth covering and makeup aren't the best combination.
If you're one to put on a full-face of products daily, you're probably still navigating how to make your makeup last under a face mask. Good news; you don't have to completely forego your makeup routine!
Here are our go-to Youngblood products that will allow your skin to breath and avoid transfer when wearing a face mask.


CC Perfecting Primer
Helps smooth skin texture for longevity for foundation!
To Use: Pat primer all over the face for an even base.
Loose or Pressed Rice Setting Powder
Lock in prime4 with our rice setting powder to fill in pores for matte, long-lasting finish.
To Use: Buff setting powder with a dense brush all over your face or just in the areas that tend to get extra oil.
Natural Loose Mineral Foundation
Our #1 best-selling foundation leaves a natural, healthy complexion. The lightweight formula is designed to avoid breakouts and clog pores making it easy to wear under face masks. Customise your application depending on desired coverage – from light to full buildable coverage.
On Point Brow Pencil
Brows accentuate the eyes-- so keep them perfectly trimmed, shaped and filled! To Use: Fill in sparse areas in light strokes and use the spoolie to brush brow hairs into place for full, perfect brows.


Outrageous Lashes Mineral Lengthening Mascara
Enhance your eyes with a few coats of mascara! Our mineral mascara helps lift and separate lashes for a thick, curly lash.
To Use: Apply mascara at the root of the lash to build up the volume.


Hydrating Liquid Lip Creme
Once our liquid lip cremes are set into place, apply setting powder on the lips to keep them transfer-free. It works like a charm!
Back to Blog