Limited Edition - Enchanted Christmas Pack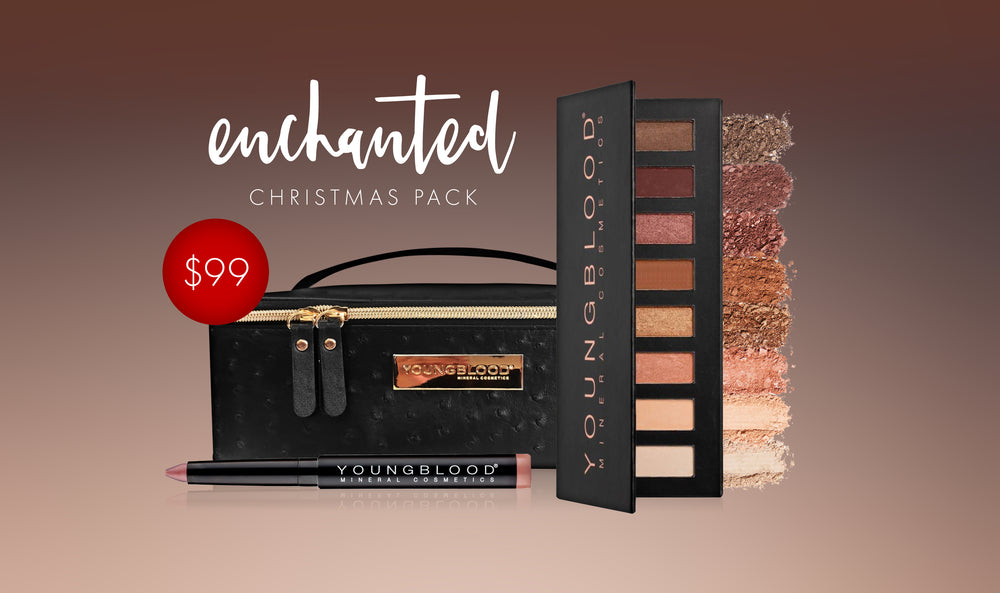 The 'need it right now' Christmas Gift Pack you don't want to miss!
Eyeshadow palettes are a great beauty investment and make gift giving to the beauty lover in your life a whole lot easier. You can play with many colour combinations, introduce different finishes to your eyes and layer different tones if you're after a smoky look. They're also the affordable and best way to get multiple eye products with only one purchase!
Enter the Enchanted Christmas Gift Set! A star in the Youngblood holiday line up, this curated set includes the Limited-Edition Enchanted Eyeshadow Palette, perfectly paired with a Color Crays Matte Lip Crayon ensuring your Christmas glam is next-level EXTRA this season.
With unmatchable colour payoff, the Enchanted Eyeshadow Palette includes 8 pigment rich, spell-binding shades in warm neutrals, shimmering coppers, and metallic golds; the perfect combination for creating a mesmerizing look. Work your magic using the creamy, metallic shades all over the lid for a dazzling wash of colour or layer our expertly paired matte shades for a sophisticated look.
All of the eyeshadows are expertly crafted featuring natural ingredients like rice starch for unparalleled long-lasting wear, mica for a subtle sheen and silky-smooth texture, and are paraben-free and Peta certified cruelty-free.
As a Christmas bonus (yes, Santa knows you've been nice), we've tucked the Enchanted Eyeshadow Palette away in a free Ostrich Cosmetic Bag, along with our favourite Colour Crays Matte Lip Crayon. This velvet matte finish, ultra-hydrating lip crayon is packed with intense colour for longer wear and will last until you call it a night. Combining convenience and smooth application, the pigment-rich lip colour provides a creamy, definitive matte finish, without sacrificing nourishing your lips.
Don't be caught saying "I wish I bought it". Add the Enchanted Christmas Pack to your cart now...it will be your go-to for slaying by day or casting spells by the night (we promise)!
Need more gift inspiration? Whether you're buying for your daughter, your mum or your bestie, we've got a gorgeous natural makeup gift for everyone on your list!!  We've rounded up our favourites to give and receive this Christmas:
Lip Trio Set
Contour Crush Gift Pack
Loveable Lips Gift Set
Time to Prime Gift Pack
Lip and Cheek Essentials
Back to Blog