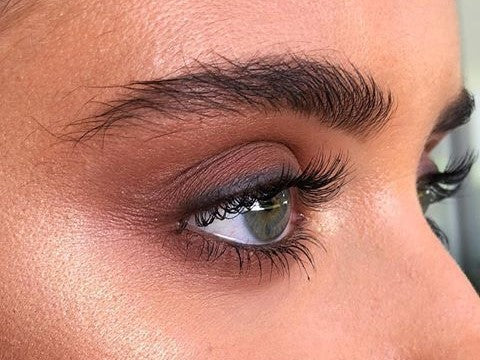 It's National Lash day, beauties, and we think our BFF lashes deserve to be recognised for their ability to make our makeup looks go from a 7 to a 10! The right lash can dramatically change the shape and size of your eye, whilst framing your peepers and bringing out your gorgeous eye colour! With National Lash Day happening on 19th February, we're taking some precious time to celebrate all things lash-related: mascara, falsies, extensions, tints and of course our natural lash hairs, too! Here are two lash-tastic looks we love, and how to achieve them!
The Winged Lash
For a super-sultry look recreate the winged lash using the Outrageous Lashes Mineral Lengthening Mascara. Combining volumising properties with lash-conditioning benefits this formula is long-wearing, non-flaking and smudge-proof. For the ultimate in seduction, we recommend pairing with the Eye-mazing Liquid Liner Pen  to elongate your eyes even more!
Application tip: Taking your Outrageous Lashes Mineral Lengthening Mascara, hold the brush diagonally across your lashes and pull the brush outwards for a lengthening effect. After the initial application, focus on the outer lashes – lengthening them to create a "wing".
The Full Volume Lash
Turn up the volume on your everyday makeup with matte eyeshadows in earthy tones and enhance the look with Outrageous Lashes Full Volume Mascara. With a unique brush designed to coat each and every lash from root to tip, the fine point bristles on the wand separate each lash – providing clump-free, smudge-proof length!
Application tip: Use the tip of the wand for fine lash maximising and the body of the brush to distribute product evenly for full volume intensity. Place the wand at the root of your lash hairs and wiggle upwards to the tips. Continue this movement until you've reached your desired level of volume. For longer thicker looking lashes, apply an additional coat to the lashes using the tip of the wand.
Back to Blog