A More Effective Way to Remove Makeup: Discover the Magic of The Original MakeUp Eraser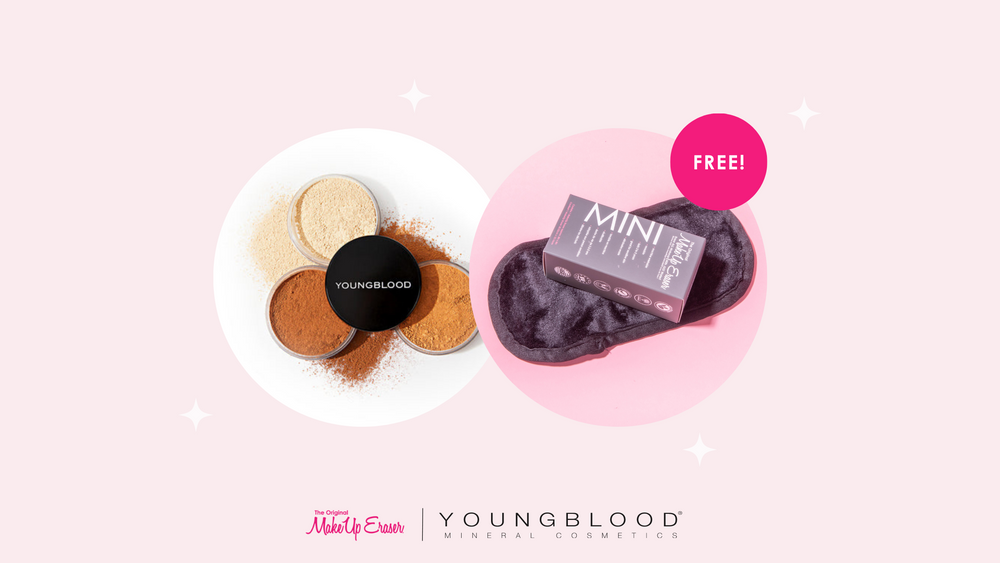 Are you looking for a more effective way to remove makeup? At Youngblood Cosmetics, we are passionate about clean beauty and effective products. That's why we're thrilled to introduce you to The Original MakeUp Eraser - the perfect tool to remove makeup and the perfect addition to any makeup and skincare routine.
REMOVE MAKEUP WITH JUST WATER!
The MakeUp Eraser melts away a full face of makeup with just water! The super soft MakeUp Eraser is a reusable and machine washable makeup remover cloth made from a specially crafted polyester blend – this patented polyester blend is what makes the MakeUp Eraser so effective.
You're going to love this powerful makeup remover if you have sensitive skin too! Free from alcohol, oils, astringents, parabens, fragrances, and sulphates, it's a great option for people with easily irritated skin or those who prefer to use chemical-free makeup removers.
Not only is The MakeUp Eraser gentle and effective but it's also eco-friendly and cost-efficient thanks to its ability to be machine washable, giving it a life span of 3-5 years!
 8 GAME CHANGING BENEFITS
Antibacterial
No chemicals
Less waste
Reusable
Machine washable 
Great for sensitive skin
Face & lip exfoliator
Saves money
HOW TO USE THE MAKEUP ERASER
Simply wet the MakeUp Eraser with warm water and gently wipe away makeup. It removes even the most stubborn mascara and eyeliner, leaving your skin feeling fresh and thoroughly cleansed.
Use the shorter side of the cloth to cleanse – after wetting the cloth, gently rub your face in circular motions. Avoid applying too much pressure or using a scrubbing motion as the cloth should be wet enough to easily remove makeup. After removing your makeup, you can flip the cloth over and use the fluffier side to gently exfoliate your skin for a smoother complexion.
After a few uses you can wash the MakeUp Eraser and then reuse it!
THE PERFECT ADDITION TO YOU SKINCARE ROUTINE
The MakeUp Eraser is the perfect addition to any makeup and skincare routine, as it effortlessly removes makeup while being gentle on the skin. Whether you are a professional makeup artist seeking a reliable and efficient tool to remove your clients' makeup or someone looking for an effective makeup remover to wipe away your own daily makeup, the MakeUp Eraser has got you covered.
FREE MAKEUP ERASER WITH EVERY YOUNGBLOOD FOUNDATION PURCHASED
We are excited to offer a special promotion to our Youngblood customers so that you can try out the MakeUp Eraser too! For every Youngblood foundation purchase* you will receive a free mini MakeUp Eraser.
Upgrade your makeup removal routine with The Original MakeUp Eraser and enjoy a gentle and effective way to remove your makeup - this is the perfect opportunity to try out the MakeUp Eraser and see how it can benefit your skincare routine!
T&C: Offer ends 31st August 2023. Not in conjunction with any other offer.
Back to Blog