Youngblood Mineral Cosmetics is the crucial and final step for healthy, glowing skin. Offering natural, skin-loving makeup allows you to provide your clients with end-to-end care that they'll keep coming back for.

Originally formulated in a medical setting for patients recovering from harsh medical procedures such as laser, chemical peels, surgeries, and cancer treatments, Youngblood makeup is gentle enough to be applied in-salon to post-treatment skin, and this full colour, professional range is perfect for in-salon makeovers and event makeup. Makeup that heals while it conceals (we call it Beauty With Benefits!), Youngblood offers superior coverage without compromising skin health. You work hard to get the best results for your clients, and with Youngblood you're giving them healthy, natural makeup that supports their skin health journey. Isn't it time you chose a makeup brand that doubles as skincare?
the foundation of beauty
The last step of skincare, the first step of makeup... This is the foundation of beautiful skin.
Salons focus on skin health, but they often forget the crucial final step – makeup. If your clients are walking out of your salon and applying makeup that contains harmful chemicals, preservatives and fillers, they're likely to undo all your hard work!
Don't let your clients use cosmetics that are contributing to the skin issues you're trying to treat – instead, start prescribing makeup the same way you do skincare, and offer your clients healthy makeup that doubles as skincare and supports your in-salon treatments.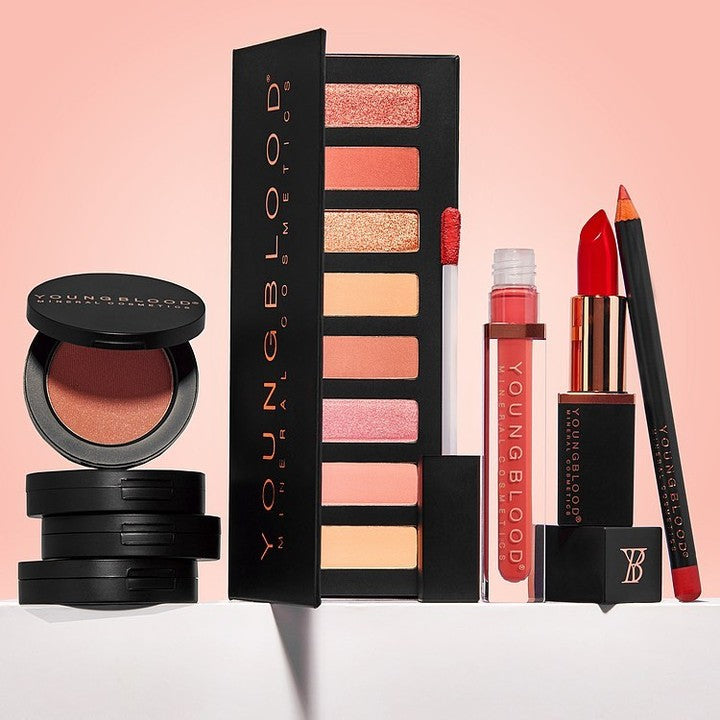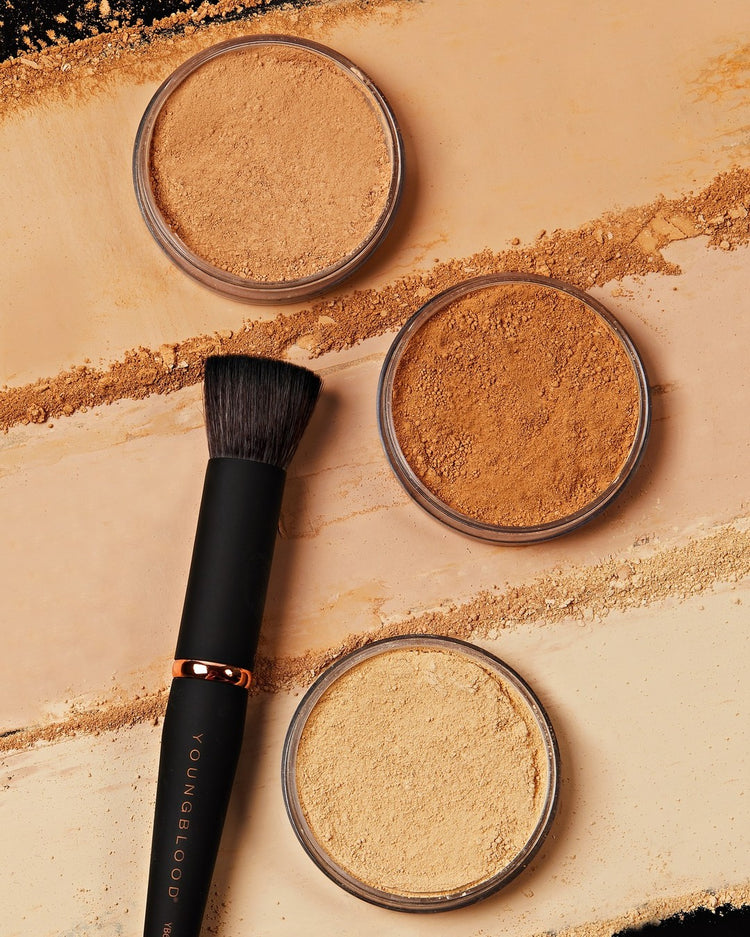 MATCH ALL SKIN COLOURS & SKIN TYPES
Youngblood's range of Loose, Liquid, Pressed, and Creme Foundations and Tinted Moisturisers cater to all skin types and tones, and each provides a different coverage and finish.
From the moment you apply it, you'll notice Youngblood's incredibly silky feel and its polished, natural finish. Clean and lightweight, it allows skin to breathe, is non-comedogenic, and even with our flawless coverage you'll feel like you're wearing no makeup at all.
Unlike other mineral cosmetics, Youngblood never looks 'glittery', 'flat' or 'powdery' – instead, you'll radiate a natural, healthy glow.
ENDORSED BY DOCTORS, BEAUTY THERAPISTS & MAKEUP ARTISTS
MAKEUP THAT DOESN'T SACRIFICE YOUR SKIN
Loved by professional makeup artists all over the world, Youngblood has been operating in Australia for over 20 years as a family-run Australian business.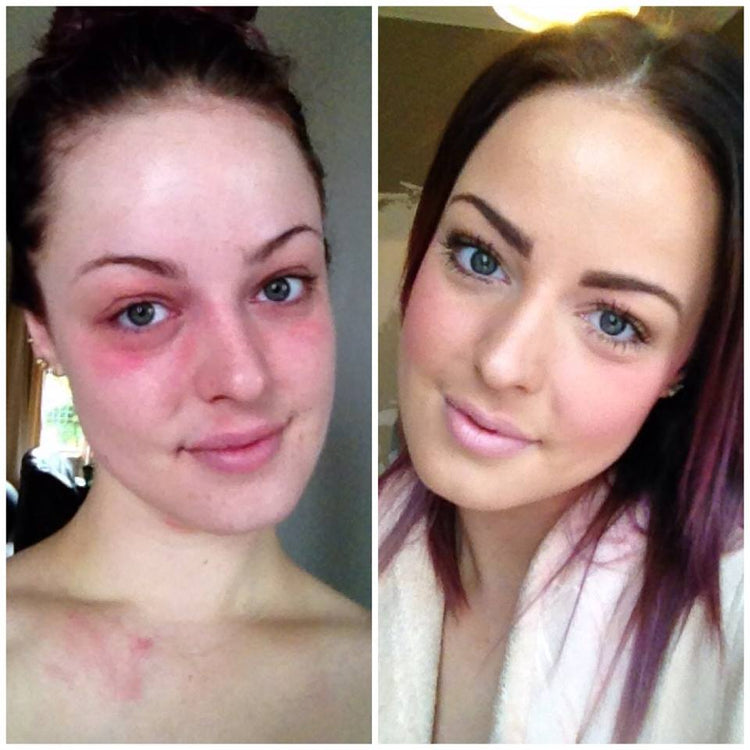 Before & After
Salon credit: Lauren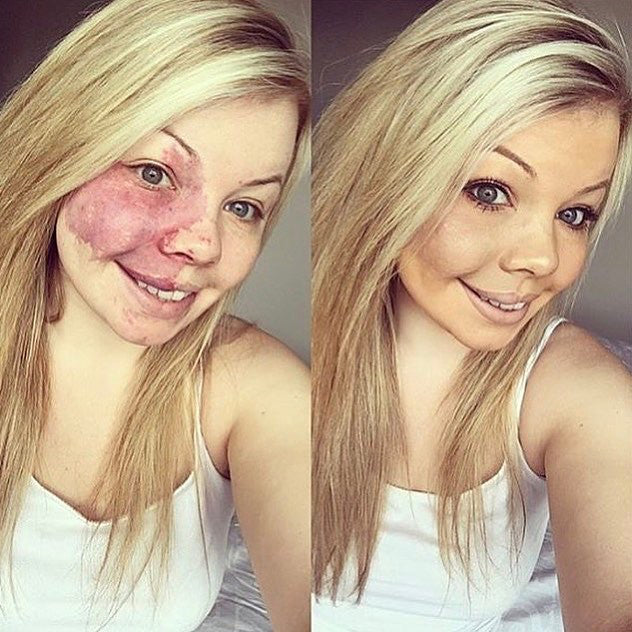 Before & After
Salon credit: @amyelsegood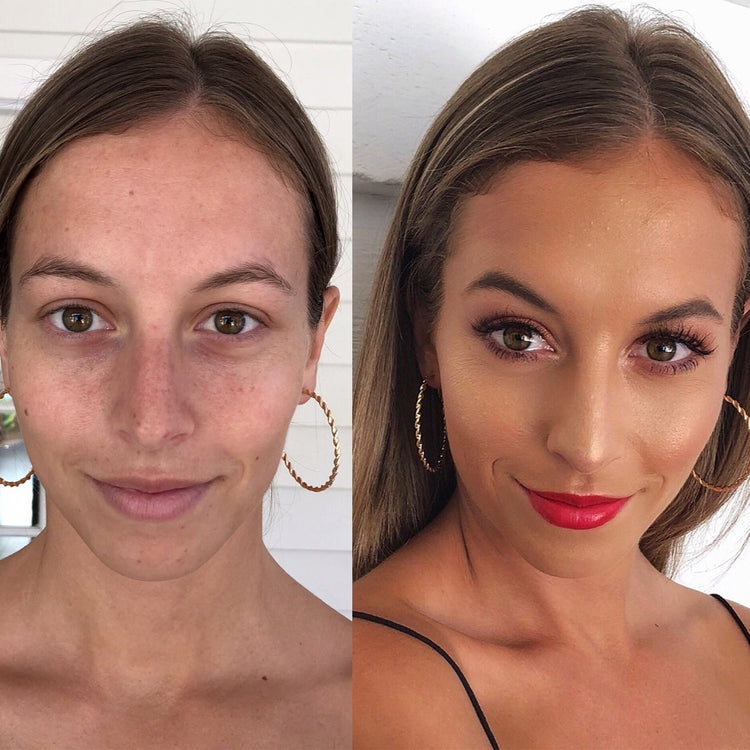 Before & After
Salon credit: @dannidavis___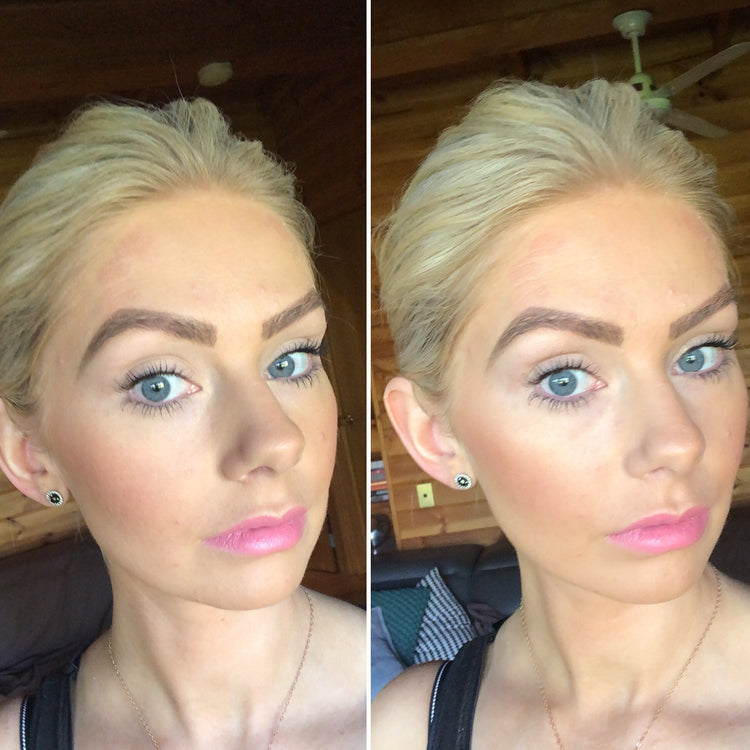 Before & After
Salon credit: Abbey Edwards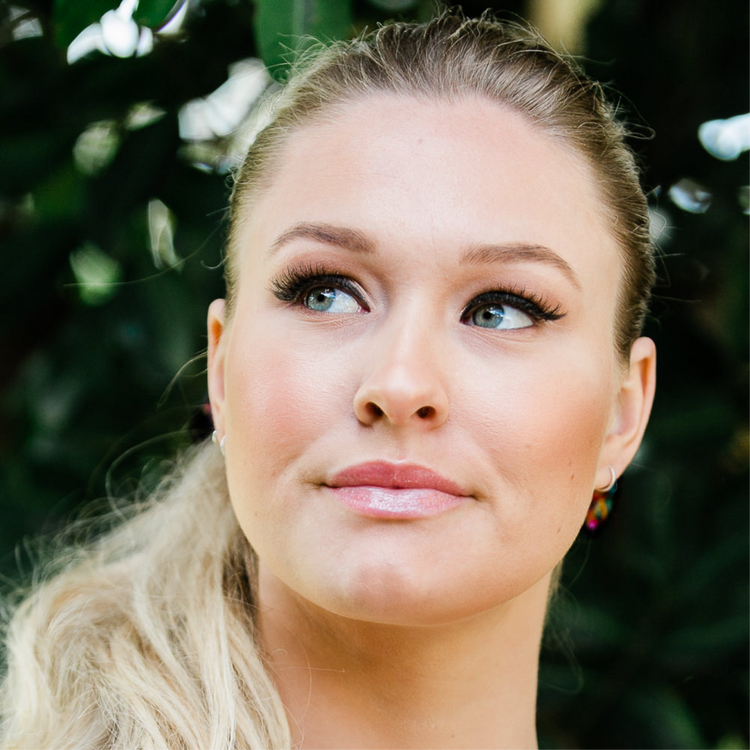 Makeup Artist: Fi Levings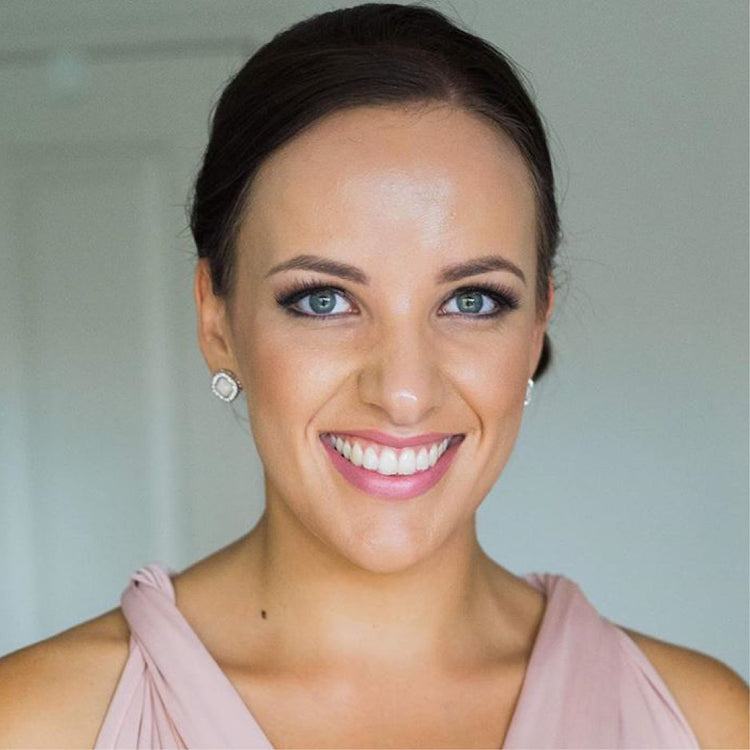 Photo credit: @brazilianbeautynorthadelaide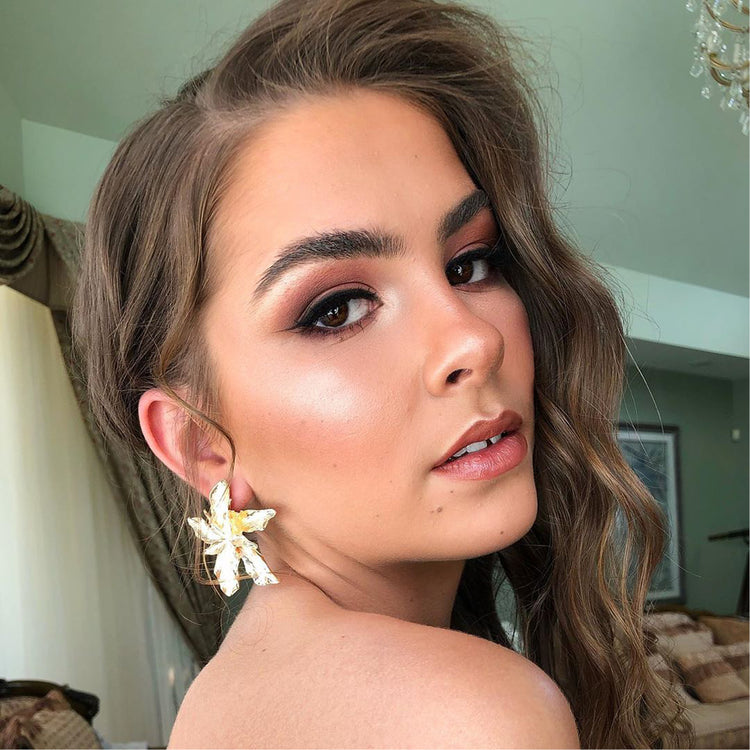 Photo credit: @nicolehillmakeup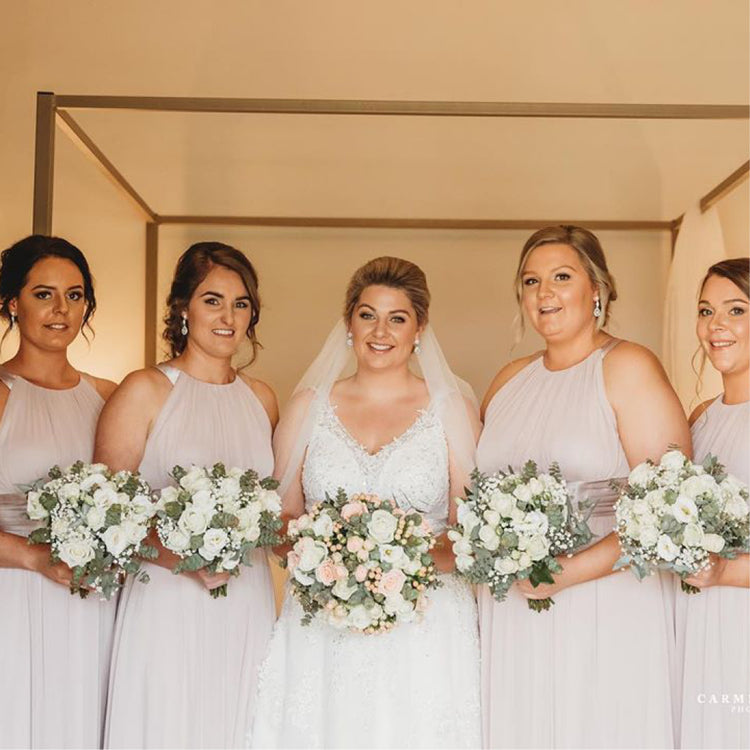 Photo credit: @jennifergalvin_skin_therapy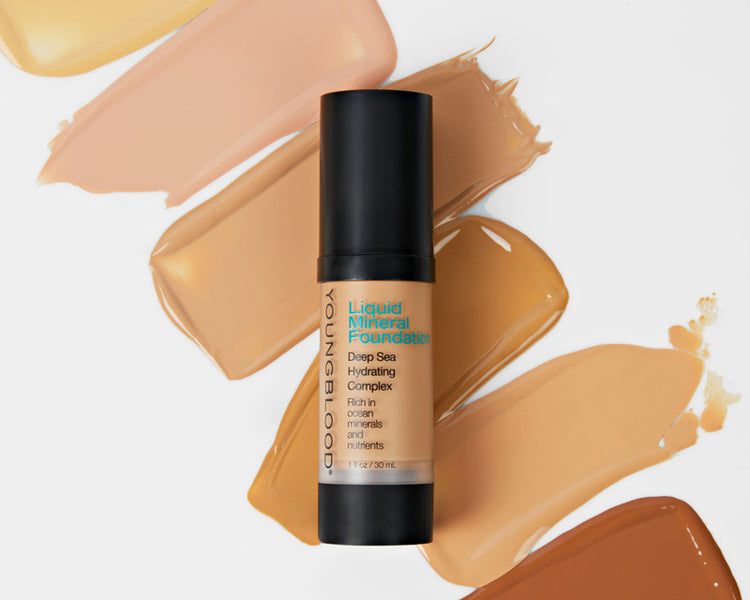 HEAL & CONCEAL
Patients who have undergone microdermabrasion, IPL, chemical peels or surgery require natural, healing makeup post-treatment, due to the tight, raw, sensitive skin they're temporarily left with. Youngblood uses premium-grade, triple-milled minerals like mica and titanium dioxide to ensure beauty therapists and their clients are able to easily cover blemishes, bruising, and birthmarks, fight and heal skin infections, reduce inflammation and soothe post-operative skin. The all-natural ingredients in Youngblood foundation mean therapists are able to immediately apply a fresh face of makeup to clients even after the most invasive of treatments.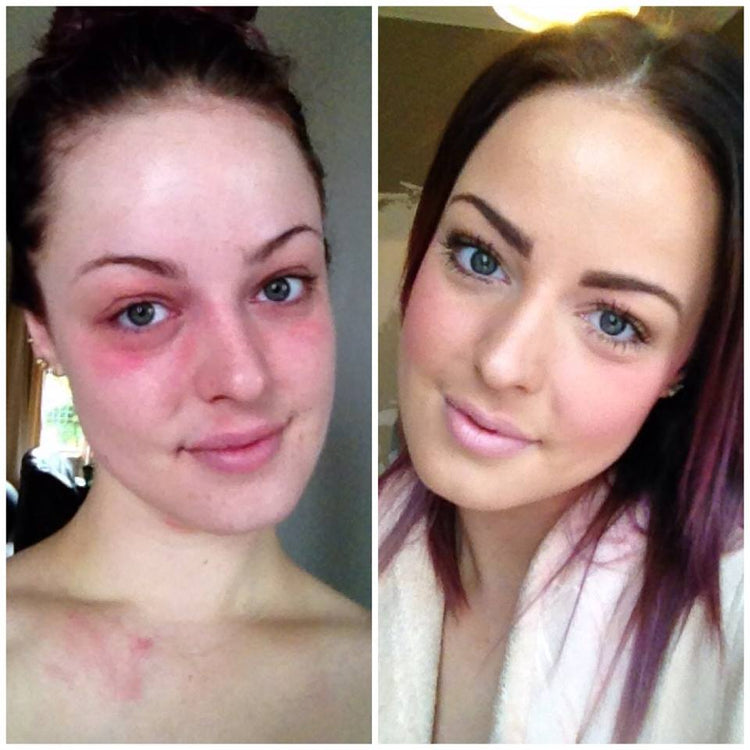 PERFECT FOR PROBLEMATIC SKIN
Youngblood is proud to offer healthy foundations that combat a whole host of skin issues! We've chosen to leave out heavy, congesting ingredients like talc that can trigger reactions in sensitive skin and exacerbate breakouts – instead, Youngblood cosmetics are kind to sensitive, acneic and allergy-prone skin, and are non-comedogenic. Specifically formulated to minimise skin irritation and safely conceal the redness that comes with inflamed, irritated skin, our natural mineral formulas adhere to the natural oils in the skin (instead of sinking into the pores) – allowing skin to breathe and function normally.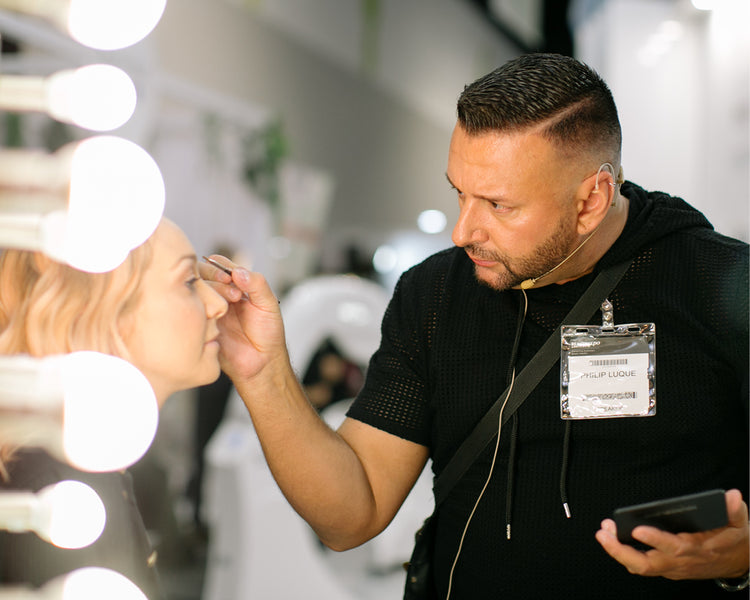 COMPREHENSIVE COLOUR RANGE
As Youngblood continues to lead the way with innovative new product releases, more professional makeup artists are choosing Youngblood Mineral Cosmetics over any other makeup line. With our comprehensive range of highly-pigmented colours, and a variety of crushed, pressed, cream and liquid minerals, makeup artists love that they can create any look and finish they desire – whether it be bridal makeup, a fashion-forward runway look or simple everyday makeup. Youngblood is a high-performance professional makeup range that you'll love using on your clients and your clients will love using on themselves.
WHY DO MORE SALONS CHOOSE YOUNGBLOOD?
SUPERIOR PRODUCT PERFORMANCE
Our formulations combine the highest-quality minerals and advanced technology to provide skin-loving makeup that gives flawless coverage.
SAVE UP TO $3,600 IN FREE TESTERS & STAND
With Youngblood you save thousands with free testers and display units with all our packages, which means greater margins on your opening order. Taking on Youngblood is a much more affordable investment than other major brands, and you can start turning a profit immediately!
SUPERIOR MARKETING
At Youngblood we're constantly focused on how we can help you grow your business through online and print media coverage, and every piece of marketing content we create for you is designed to drive more customers through your business. We realise how crucial marketing assistance is for busy salon owners, and we're proud to offer more consumer marketing and coverage than any other salon-only mineral cosmetics line.
MODERN, ELEGANT PACKAGING
No other brand of mineral makeup provides the broad appeal of our sleek, sophisticated style, and our packaging has proved that it can attract both the enthusiastic young buyer and the discerning, experienced client.
PROFESSIONAL ATTRACTIVE DISPLAY UNIT
Designed to encourage your clients to 'try and buy', choose from our four stunning displays depending on your needs and your space. Your Youngblood display stand is your 'silent sales person' and your clients will love sampling products and colours from the range.
TRAINING & SUPPORT
Youngblood's professional beauty experts provide extensive, ongoing training for you and your team, covering makeup application and product knowledge, as well as how to effectively retail and sell Youngblood products. Every stockist gets:
• FREE Install Training. 
• FREE VIP Launch & FREE VIP Pack for Elite and Countertop opening orders.
• FREE monthly marketing support with beauty tips, education, promotions and specials.
• FREE Marketing Material, Training Manual and Training Video valued at $186.
• FREE Marketing On A Platter service valued at $9,480/year. FREE Business Building Tools & Support, valued at $4,740/year. 
COMPETITIVE PRICE POINT = SUPERIOR PROFIT
We believe that your business can ultimately achieve a greater profit when you offer products at a more appealing price point, which is why we keep our prices affordable and offer our salon owners an 80-100% mark up.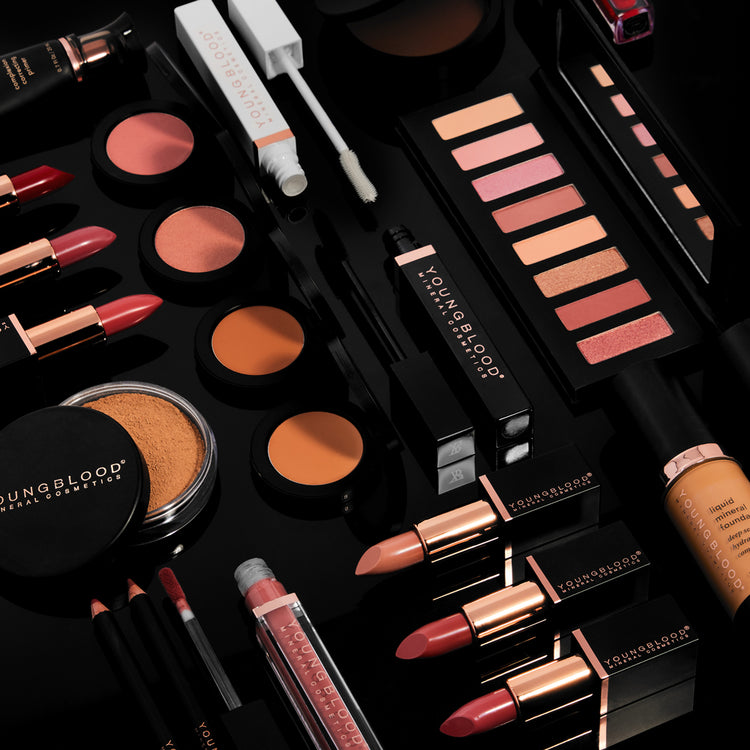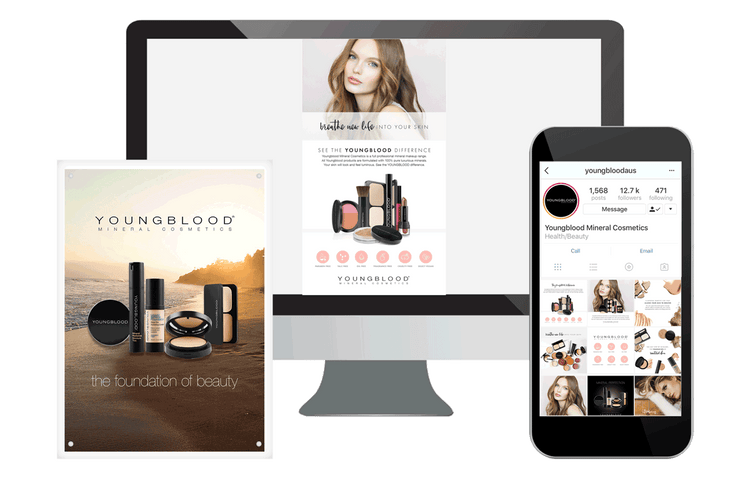 free marketing
It's one thing to have a mineral makeup range your clients can't resist – but you also need a marketing strategy to attract new loyal clients. Salon owners are busy, and we know that marketing often ends up at the bottom of the to-do list, so at Youngblood we do your marketing for you for free! With new campaigns, posters, emails, social media graphics coming your way every month, we make promoting your makeup services easy, so you can attract more clients than ever before.
the silent sales person
Your 'silent sales person', Youngblood stands are designed to encourage your clients to 'try and buy', and they'll love sampling the range!
our beautiful display stands are contemporary, compact and absolutely free! With 4 stands to choose from, you can choose a stand that meets your business needs.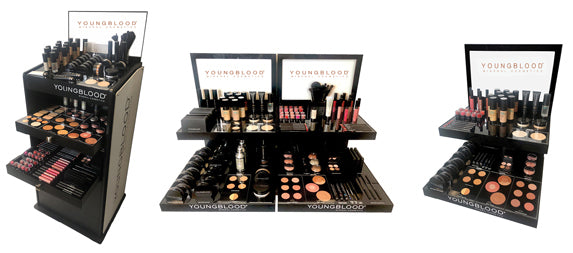 DON'T BELIEVE US?
"We love that we can offer a makeup range that's natural, chemical free, recommended by dermatologists, able to be used post treatment, gives superior coverage and has beautiful colours and tones for every skin type. What more can you ask for in a makeup range!? Although makeup isn't our main focus, as a result of stocking Youngblood and how easy it is to colour match and use, our average spend-per-client has increased without too much extra therapist time or resources. It's become well-known in our area that we're a Youngblood stockist, and as a result we have lots of formal and wedding makeup clients come through our doors."
DON'T BELIEVE US?
"Since we became stockists in 2012, we've had a high turnover of stock because it's so popular with our clients. We stock Youngblood because it's a full professional mineral makeup range, suitable for all skin-types, and formulated with 100% pure, luxurious minerals. We can see and feel the difference in our skin and love that they keep up with all the up and coming trends."
DON'T BELIEVE US?
"I find Youngblood so easy to love because the quality of the minerals is superior to any other brand and the range is so highly pigmented and provides a long-lasting finish. All our staff wear Youngblood as part of their uniform and love they it. Clients always comment on how flawless our skin looks – giving us a great opportunity to share the range with them. Being a medical and cosmetic skin clinic, we're serious about addressing our client's skin concerns, and having a product like Youngblood to prescribe helps us properly correct skin problems from end-to-end. Youngblood is an integral part of our business and we can't imagine our clinic without it!"
DON'T BELIEVE US?
"We pride ourselves on the quality of our treatments and our aftercare protocols, so when we took on a makeup range we knew it had to be suitable for post-treatment use, able to provide superior coverage and available in a wide range of colours. Breathable make-up with amazing coverage, Youngblood products are versatile and so easy to use."
GROW YOUR PROFITS WITH YOUNGBLOOD.
Enquire today
Call 1800 625 387 and speak to a Youngblood representative or simply complete the form and a we be in touch with you.