A Step-By-Step Guide To Contouring & Highlighting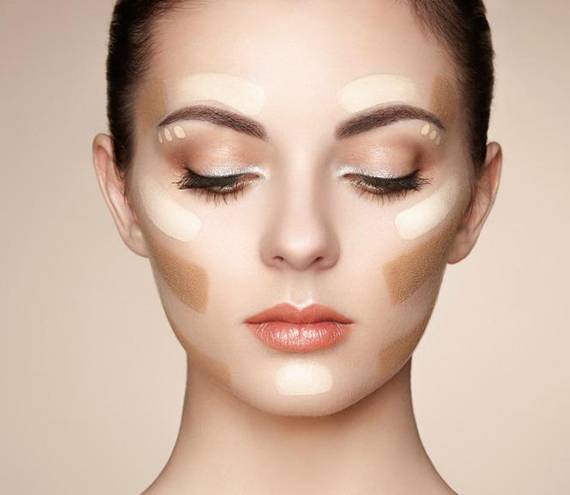 Beauty trends come and go, and some stay well and truly buried in the past (we're looking at you thin '90s eyebrows!) – however, one trend that's been sweeping the beauty industry for the past few years and is undoubtedly here to stay is the mysterious art of contouring and highlighting.
Enhancing or downplaying your features is the magic of makeup, and the best part is – anyone can do it! Whether it's a simple contour of the cheekbones for that extra definition, or some highlighter to lift the brows, anyone and everyone can give it a go. That being said, there's an art to contouring and highlighting, so it's no surprise that many of us are afraid to try this trend for fear of ending up with a brown smudge along our jawline or an overly-sparkly face.
Lucky for us, Youngblood's head makeup artist Fi is here to walk us through the application process so you can nail this look and achieve all your makeup goals! Check out her step-by-step guide below.

Step 1: Prime
Prep your skin with primer to hydrate and smooth your complexion before you apply your foundation. Applying a primer means you'll use less foundation, your makeup will last all day and you'll achieve a beautiful, seamless finish. I recommend using Youngblood's bestselling Mineral Primer – it's silky and lightweight, and crazy-good at blurring the appearance of fine lines, blemishes and pores.
Step 2: Foundation
Laying a good foundation is the secret to success, no matter what makeup look you're doing! And it's especially important when it comes to your makeup application. Choosing a foundation that blends into your skin perfectly is the key to creating a flawless base, and high-quality brushes are another essential when it comes to achieving the perfect finish. Use our YB4 Foundation Brush to apply liquid foundation, or our YB1 Kabuki Brush if you're using Youngblood's Loose Mineral Foundation. Buff the foundation into your skin with our YB3 Liquid Buffing Brush for a flawless, well-blended finish.
PRO TIP: Always start your foundation application on the nose and cheeks and work outwards to the edge of your face and down your neck. Wait a minute or two to allow your foundation to settle into the skin before applying a second layer if more coverage is needed.
Step 3 – Contour
Choosing the right contour product for your skin tone is just as important as choosing the right foundation! If you get the tone or texture for your skin wrong, then you risk it having no bronzing effect at all or even worse – ending up with skin that looks muddy. Youngblood has a wide range of bronzing and contouring products options that are suitable for all skin types to help you on your quest towards bronzed perfection.
Our Contour Palette has three matte bronze shades to work from, our Mineral Radiance Bronzers are perfect for a sun-kissed glow, and our brand-new Defining Bronzers are pigment-rich and buttery-smooth to give you a naturally bronzed look.
PRO TIP: Take a step back from the mirror when applying bronzer to ensure you don't over-apply and know where to apply contour to suit your face shape.
Step 4 – Highlighter
Add instant radiance to the high points of your face with our highlighters – "the best anti-aging trick in the book," according to our head makeup artist Fi!
Firstly, work out what highlighter works best for your skin type and tone. If you have oily skin you probably tend to steer clear of liquid and crème highlighters, but with Youngblood there's no need to! Because you've used our Mineral Primer, your skin is perfectly mattified for a seamless highlighter application using the crème highlighters in our Illuminate Palette, that give skin a subtle sheen and a more matte-style finish.
If you're after more glow, then our Light-Reflecting Highlighters are the one for you! Suitable for all skin types, these highlighters blend seamlessly into your foundation and add a beautiful burst of radiance to finish your look!
Skin tone know-how
When it comes to skin tone, Youngblood has you covered! For fairer skin we'd recommend using our shades with eggshell undertones such as our brand-new 'Quartz' Light Reflecting Highlighter which is a soft, luminous pearl, and if you're after a cream highlighter, the 'Pearl' and 'Natural' shades in our Illuminate Palette won't disappoint. Medium toned skin looks gorgeous in rose gold tones such as our 'Aurora' Light Reflecting Highlighter or our 'Pink' and 'Gold' shades in the Illuminate Palette. For dark skin tones, deep golden and bronze shades work best, so reach for our 'Gold' and 'Bronze' shades in the Illuminate Palette or our 'Fiesta' Light Reflecting Highlighter which can be brushed across your cheeks, brow bones, down the ridge of your nose and across the cupids bow of the lips with our YB7 Highlighter Brush.
Back to Blog