Hey Babe! Are You Ready for the Weekend?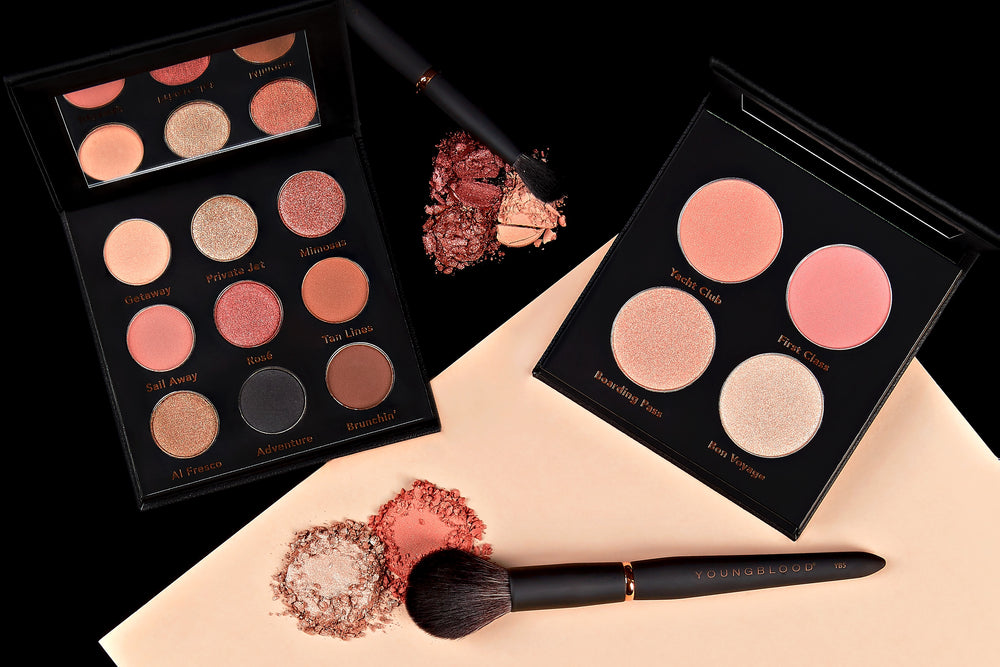 Whenever we launch a new product there is a whole lot of hype and excitement surrounding its release! Whether it's a sneaky shade addition to our ever-expanding range of foundations and lipsticks or a brand-new product release, we are always beaming with eagerness and enthusiasm to share it with you all.
But our Weekender Palette is for sure going down in the Youngblood history books as the most talked about and well-received release EVER! Are we surprised by this? No way! We mean, it's a double-sided palette that has all your blush, highlighter and eyeshadow needs sorted!
Whether you are a makeup newbie that needs one simple, yet effective palette that will have your eyes and cheeks covered. Or you're an experienced makeup artist that's looking for all your go-to shades in on handy, compact place. Either way, this palette is for you!
The Weekender boasts nine fully-pigmented, blendable and long-lasting eyeshadow shades ranging from mattes and satins to metallics, that were specially curated to create a multitude of looks. Plus, two blushes and highlighters that have full-colour payoff, blend flawlessly and complement various skin tones. This palette is a MUST-HAVE!
Hear what some of Australia's top makeup artists have to say about it!
"The Weekender palette is sooo handy having all shades in the one, I'm loving it especially because my kit is so massive its great having a small compact product as opposed to separate palettes." – Hayley Mciver
"Loving it! The palette is such a good all-rounder, and so pigmented! Thanks so much!" – Carla Dyson
 "I must say I've been using the Weekender Palette weekly on clients and on myself since receiving it. I ABSOLUTELY love it. Without any exaggeration, I think the shade selection was really well chosen, with just the right variety to create simple or complex, neutral or dramatic looks. I've been using 'Boarding Pass' to illuminate fair complexions which are super easy to blend and certainly more of a minimal to a medium intensity which is perfect for an on the go, day to day moment. By combining 'Bon Voyage Highlighter' and 'Yacht Club Blush' on the cheeks and across the bridge of the nose, you immediately see a glowing, effortless, sun-kissed illusion. I love the mirror size for travelling as well, the palette isn't overly heavy considering the number of shades inside which makes it very suitable for travelling in my opinion." – Sabrina Walsh
Watch Sabrina's Weekender Palette tutorial here. 
Some STUNNING looks created using the Weekender Palette!
| | |
| --- | --- |
| | |
| @nicolehillmakeup | |
| | |
| @makeupbylauraelizabeth | |
Back to Blog