How to Perfect No-Makeup Makeup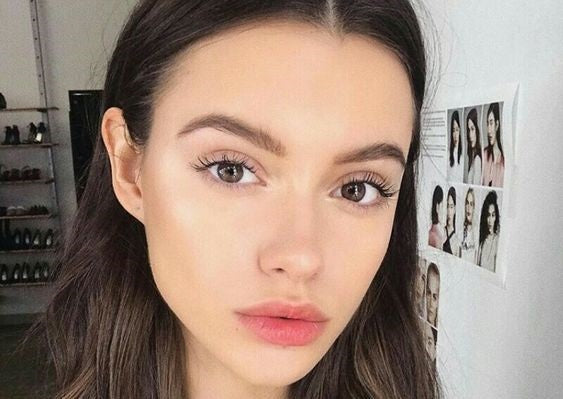 Whether your everyday makeup needs updating, or you're a fan of that radiant lit-from-within look, everyone that nails the no-makeup makeup trend knows that it is here to STAY. The natural look uses minimal products to create a polished, glowing, youthful appearance. And it is currently trumping the power of contour and dramatic makeup techniques!
From the runways to the city streets, women everywhere are stripping it back! 2018 is the time to focus on key features, like lashes, brows and skin for a clean finish. Here are our top tips to mastering the no-makeup makeup look:
For glow-given skin
No-makeup makeup all starts with a lightweight, dewy base. Leave your skin even and glowing from within with a tinted moisturiser or primer-foundation hybrid, and blend into your skin for a radiant result. We recommend blending our NEW Diamond Infused Illuminator with our Moisture Tint for a healthy looking sheen. The light mineral formula will feel like you're not wearing any makeup at all!
For flawlessly flushed cheeks
Mimicking your natural appearance, adding a bit of warmth to your cheeks can make you look polished, and uber-youthful. Choose a creme formula in a natural bronze or pink shade, like the one on our Illuminate Palette of Luminous Creme Blush shades. Apply over the apples of your cheeks and lips to give you an extra natural sheen, giving you the perfect rosy flush.
For on-fleek brows
No-makeup makeup calls for a subtle statement, in the form of flawless, undone brows. Skip the Insta-brow look and sharp lines for a naturally brushed up brow with the Brow Artiste Sculpting Pencil. This gives you the right amount of depth and colour, with a spoolie brush on the other side to blur and blend. We also recommend glossing over your lashes with a brown mascara, like our Mineral Lengthening Mascara in Mink for a polished finish.
For your daily fix of vitamins
A brighter, glossier complexion starts and ends with caring for your skin. For extra hydration and glow, finish your no-makeup makeup look with a spritz of essential oils and vitamins. This will protect your skin and lock in moisture for the duration of the day. Our Minerals in the Mist delivers a dewy boost to skin. Perfect for those refreshing touch ups during the day!
Back to Blog