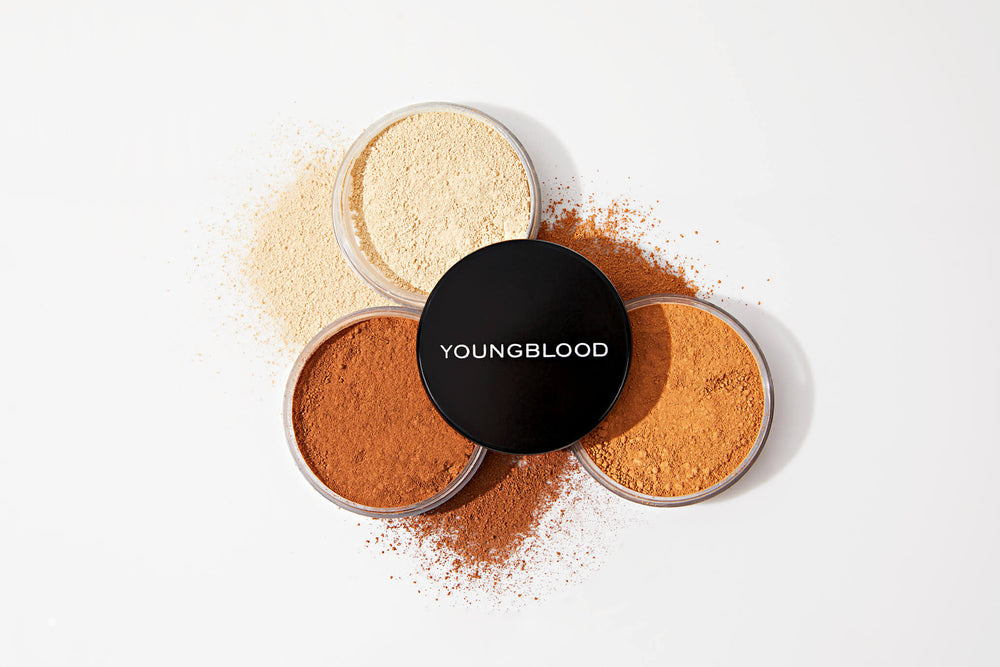 Is a smooth foundation base and a flawless long-lasting matte finish the stuff of your makeup dreams? If so, Youngblood can make your dreams come true with literally just one product – Rice Setting Powder!
With nine key ingredients, that are practically good enough to eat, Rice Setting Powder is your makeup bag's multipurpose must-have product that you didn't know you needed (but that you seriously do!).
How to use it
Our Rice Setting Powder comes in pressed and loose form, and three shades – light, medium and dark. Both formulas can be used the same way, so take your pick!
As a primer for powder foundations:
Foundation needs a smooth canvas to ensure it blends seamlessly and lasts all day, so grab your YB1 Kabuki Brush and lightly dust the Pressed Rice Setting Powder over bare skin. To minimize pores and fine lines and achieve an airbrushed finish, press and roll the product into the skin with a flocked sponge to create the perfect base for your Loose Mineral Foundation.
As a setting powder:
Use the Loose Rice Setting Powder with the YB2 Powder Brush to give your Liquid Mineral Foundation a flawless finish (thanks to Mica, that lends a subtle sheen and silky smooth texture), while creating the perfect base to blend in your blushes and bronzers.
As a blotting powder:
For those of us who need an on-the-go, oil-controlling touch up, apply the powder over your T-zone and other problem areas to absorb excess oils and control shine.
Why you need it!
With 9 skin-loving ingredients, our Rice Setting Powder has benefits far beyond giving your makeup the perfect finish.
Controls Oil – Corn Starch helps absorb excess oil, while Parsley Extract helps regulate oil production.
Soothes Skin – Cucumber, Marshmallow Root and Corn Flower Extracts soothe the skin, calm irritation and relieve puffy, tired and stressed skin.
Conditions & Hydrates – Jojoba Seed Oil, Lemon Peel Extract, Cucumber Extract and Marshmallow Root Extract work to increase moisture and hydrate the skin, without making it oily.
Cleanses Pores & Reduces Their Appearance – Parsley Extract helps cleanse your pores, while Mica reduces their appearance and gives you a silky-smooth texture.
In case you need even more reasons to get your hands on our versatile Rice Setting Powders, they're:
Vegan
Paraben-free
Talc-free
PETA-certified cruelty-free
Oil-free
Gluten-free
Nut-free
So, what are you waiting for? Amp up your foundation routine and get the primer, setting powder and blotting powder of your dreams with our Mineral Rice Powder!
Back to Blog