Which Foundation Formula Is Right For YOU?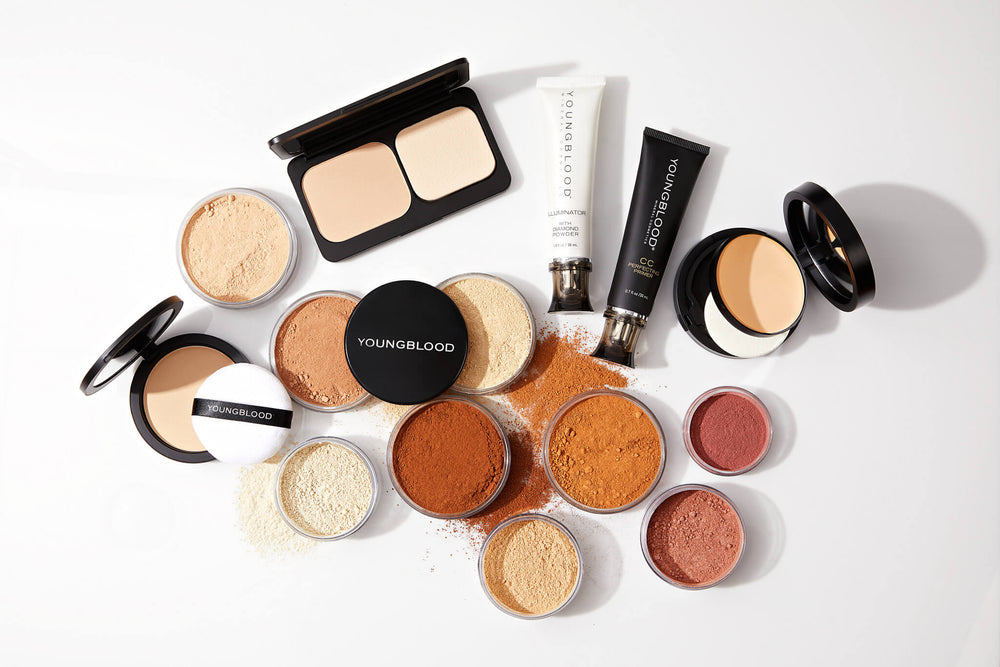 With so many different types of foundations, offering a range of finishes and coverage, it's no surprise you may feel a little daunted when it comes to making a decision. From dewy to matte, sheer to full, powder to liquid and everything in between, you're spoilt for choice – but which foundation is right for you?
Well, keep calm and carry on reading, because we're about to make this decision-making process a whole lot simpler!
Youngblood offers five foundation types (and over 50 shades!), and each of them have their own great benefits for different skin type! Here we give you our top Youngblood picks, but we recommend taking our Foundation Finder Quiz here for more personalised suggestions.
Normal Skin
Neither dry nor oily
Take your pick! If you've got normal skin, all of our foundations will work to give you a flawless complexion. All you have to decide is what coverage you're after and you're set!
Our picks: Our favourite Youngblood picks for normal skin are the Liquid Mineral Foundation, Pressed Mineral Foundation and Mineral Radiance Moisture Tint.
Combination Skin
Oily T-zone with dryer cheeks
Our pick: Loose Natural Mineral Foundation
Youngblood's Loose Natural Mineral Foundation is suitable for all skin types – meaning it can control shine and hydrate your skin at the same time! Depending on your needs, you can build the coverage from sheer to full and you'll get you an airbrushed, luminous finish every time.
Oily Skin
Shiny skin with visible, enlarged pores. May suffer from blemishes.
Our pick: Pressed Mineral Foundation
Our Pressed Mineral Foundation builds from a sheer to medium coverage and leaves the skin with a gorgeous velvet/semi matte finish. The rice starch in this formula absorbs excess oils – meaning you get mattifying sheer to medium coverage that keeps shine under control all day. For fuller coverage, apply our Loose Mineral Foundation or Rice Setting Powder over the top.
Dry Skin
Tight, rough and flaky skin
Our pick: Liquid Mineral Foundation
A dry-skinned girls' hydration dream! You can build this foundation's coverage from sheer to medium, and skin-loving ingredients like Calendula, Green Tea, Cucumber and Cactus Flower Extract nourish your skin, leaving it hydrated, soothed and radiant.
Mature Skin
Dry and fragile skin with fine lines and wrinkles
Our pick: Crème to Powder Foundation
For buildable sheer-to-medium coverage with a satin finish that's perfect for mature skin, we recommend our Crème to Powder Foundation. Packed with Vitamin E to moisturise and soothe dry skin, whilst combating environmental pollution, key ingredients Algae Extract and Brown Seaweed Extract prevent premature ageing and promote supple, youthful skin. For fuller coverage, apply using a flocked sponge in a stippling motion.

Are you ready to meet the foundation of your dreams? Take our Foundation Finder Quiz and in five easy steps we'll match you with one of our 5 skin-loving mineral foundation formulas in over 50 different shades!
Back to Blog