Why is Mineral Makeup So Good for Your Skin?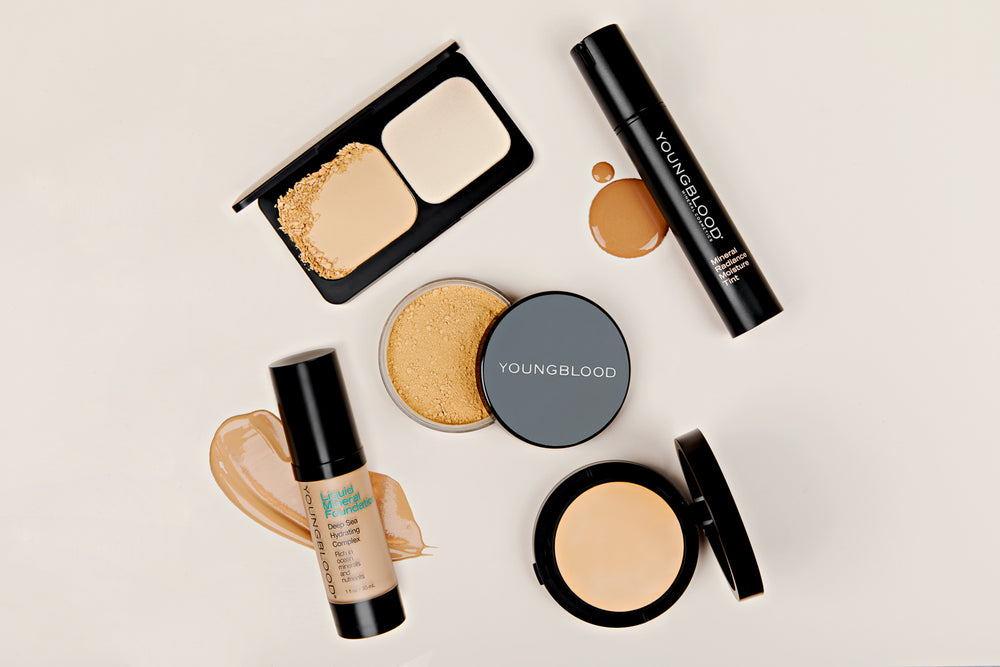 Mineral makeup is becoming more and more desirable and sought after, not only for its clean ingredients and careful formulations, but also for its incredible skin-boosting properties. Youngblood Mineral Cosmetics is so clean that it's gentle enough for use on even the most sensitive of types – nourishing the skin without clogging pores or causing irritation.
Makeup that heals while it conceals (we call it Beauty With Benefits, but more on that a little later!), Youngblood offers superior coverage without compromising skin health.
3 Reasons Why You Should Choose Mineral Makeup
1. It's Skincare Luxury
Along with natural, soothing minerals, Youngblood products are also packed with skincare-quality blends of deep-sea minerals and botanical extracts that nourish and protect your skin while delivering flawless coverage – we call it Beauty With Benefits.
Specifically formulated to minimise skin irritation and safely conceal the redness that comes with inflamed, irritated skin, our natural mineral formulas adhere to the natural oils in the skin (rather than sinking into the pores) – allowing skin to breathe and function normally.
If you suffer from sensitive or reactive skin, mineral makeup should be a crucial part of your beauty routine. Our products use clean minerals and exclude harsh chemicals to allow the skin to breathe more naturally, whilst simultaneously providing skin with soothing, healing ingredients.
2. It Says No To Nasties
Youngblood products are formulated with 100% natural minerals such as titanium dioxide, iron oxides and mica, that are gentle on skin. We fortify our products with nourishing plant extracts and oils to further enhance their skincare benefits, and leave out common irritants such as fillers, dyes, fragrances and preservatives that are found in traditional makeup.     
Youngblood products are formulated without:
❌ Zinc oxide
❌ Talc
❌ Lead
❌ Mineral oil
❌ Parabens
❌ Fragrances
❌ Alcohol
❌ Dyes
❌ Binders
❌ Fillers
❌ Chemical preservatives
3. It Provides Full Coverage & A Flawless Finish
We could go on and on about the benefits of mineral makeup for skin health, but we want to address a common misconception – that mineral makeup isn't able to provide full coverage and a flawless finish like regular makeup can. For Youngblood, this couldn't be further from the truth! Youngblood's range of Loose, Liquid, Pressed, and Creme Foundations and Tinted Moisturisers cater to all skin types and tones, and each provides a different coverage and finish.
Youngblood formulas are highly-pigmented, meaning you can build your desired coverage easily – from sheer to full, and everything in between. Youngblood formulas are powerful enough to effectively conceal skin concerns like rosacea, acne, eczema, pigmentation and more – dramatically improving the appearance of the skin while allowing it to breathe and function normally.
From the moment you apply it, you'll notice Youngblood's incredibly silky feel and its polished, natural finish. Clean and lightweight, it allows skin to breathe, is non-comedogenic, and even with our flawless coverage you'll feel like you're wearing no makeup at all.
Mineral foundations are a great option for all skin types, especially sensitive, acne-prone and mature skin, and Youngblood offers 5 foundation formulas in 53 shades that are filled to the brim with pure, natural minerals finely milled for weightless, silky, versatile coverage. And rest-assured all of them will provide a beautifully (non-cakey) flawless finish.
Isn't it time you chose a makeup brand that doubles as skincare?
Back to Blog