5 Blush Tips Used by Pro Makeup Artists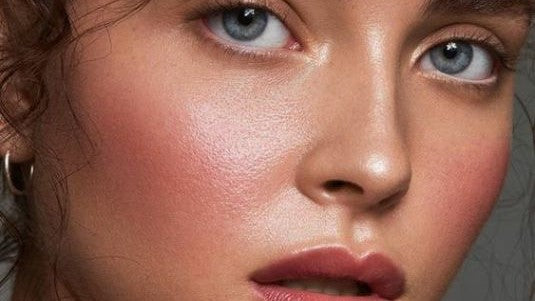 When it comes to makeup we all want to be pros! We spend endless hours watching beauty bloggers and vloggers create their 'everyday makeup look' or their 'Saturday night glam' but in reality, we never quite seem to achieve the same end result as them. Do they have some super-secret magic hidden up their sleeves?! While we defs want to know the tips and tricks for every type of makeup, for now we're diving into the wonderful world of blush, so read on to learn our top five blush tips as used by pro makeup artists!
First and foremost, know where to place your blush. If you apply it too high you'll distort your cheeks and the look will be less cute and more clownish. Looking directly in the mirror at your pupil, imagine a line coming straight down underneath it – then smile. This is the centre of the apple on your cheek and is where you want to be applying your blush.
Where to apply blush
Pink or anything reddish in colour should be placed on the apple of the cheek to give you a youthful flush that mimics the effect of blood coming to the skin's surface. Corals, peaches or anything with orange tones should be applied to the highest point of the cheekbone on an angle to create a 'rising heat' effect. We love the Youngblood Mineral Pressed Blush in 'Blossom' for a pinky tone and the Youngblood Mineral Crushed Blush in 'Coral Reef' for a pop of orange.
The 'inner glow' effect
Applying blush to the cheeks before applying foundation creates a  glow that looks like it's coming from beneath the skin, keeping your look natural and youthful. A warm pink like Youngblood's Mineral Crushed Blush in Tulip is perfect for any complexion.
The long-wearing blush hack
If you want your blush to stay put for hours on end, it starts from step 1 of every good makeup routine – Primer! Ensuring you prime your skin prior to applying foundation will ensure a perfect base is created for the blush to be applied upon!
Brush and application technique
We recommend using the Youngblood Luxurious Blush Brush to help concentrate the colour on the apples of the cheeks whilst giving you the option to sweep the blush along your cheekbones. When applying, smile to emphasise the apples of the cheeks, twirl the angled brush in the powder and dab lightly to build your flush.
Have I applied too much?
If you're going for that 'no-makeup' look or you've simply overdone it on the blush front, use this trick to tone down your look. Take your recently used foundation brush or beauty blender and go over the blush with the foundation leftovers. This will soften the effect of the blush and provide a soft, satiny finish.
Back to Blog