Youngblood Returns to Beauty Expo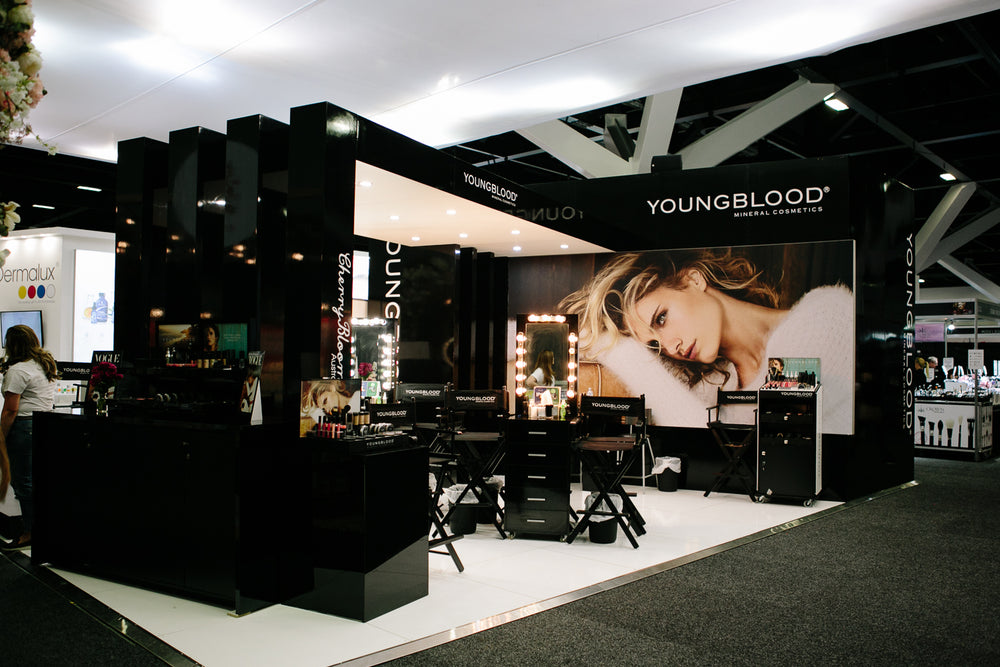 Did you attend Beauty Expo in August? After two years away from the event, Youngblood Mineral Cosmetics returned to Sydney Beauty Expo with a bang! You couldn't deny that we were excited to return to such a prestigious and fun-filled show. Walking into the International Convention Centre (ICC) in Sydney, we knew the weekend certainly would not disappoint!
Beauty Expo brings together international beauty industry experts, salon owners, and beauty brands like ourselves to learn what's hot and new in the industry, discover new brands entering the fold and do a little (or a lot) of shopping from the hundreds of brands exhibiting.
If we do say so ourselves, Youngblood's huge stand was pumping all weekend! Like walking onto a catwalk, with our filmstar lights illuminating the area, there was little room to breathe. Between our visitors getting colour matched in one of our 5 foundations and 50 shades, or receiving sneak peeks into NEW product launches, like our new Matte Lip Crayons, coming in October!
Our makeup artists and volunteers were on their feet all weekend giving a helping (and knowledgeable) hand. They expelled their wealth of knowledge about our range of colours, formulas and mineral ingredients, while the girls at the counter were whizzing through hundreds upon hundreds of orders for our guests!
Speaking of wealth of knowledge in the makeup industry, we were lucky enough to have Youngblood's International Educator and MUA, Philip Luque join us for the weekend. Taking part in on-stand demonstrations, education classes, and even colour matching some excited visitors himself, Philip was a hit. And with 20 years in the beauty industry, Philip needed no introduction at the venue. Our beautiful models were dolled up by Philip during sessions using Youngblood over the weekend (see below). He showed salons exactly what our mineral formulas can do for your skin's health, from teen acne coverage to perfecting mature skin.
Youngblood Mineral Cosmetic's stockists were also treated to a half-day masterclass run by Philip himself, in an intimate setting on the Monday.
Back to Blog