Isn't is time you chose a foundation that doubles as skincare?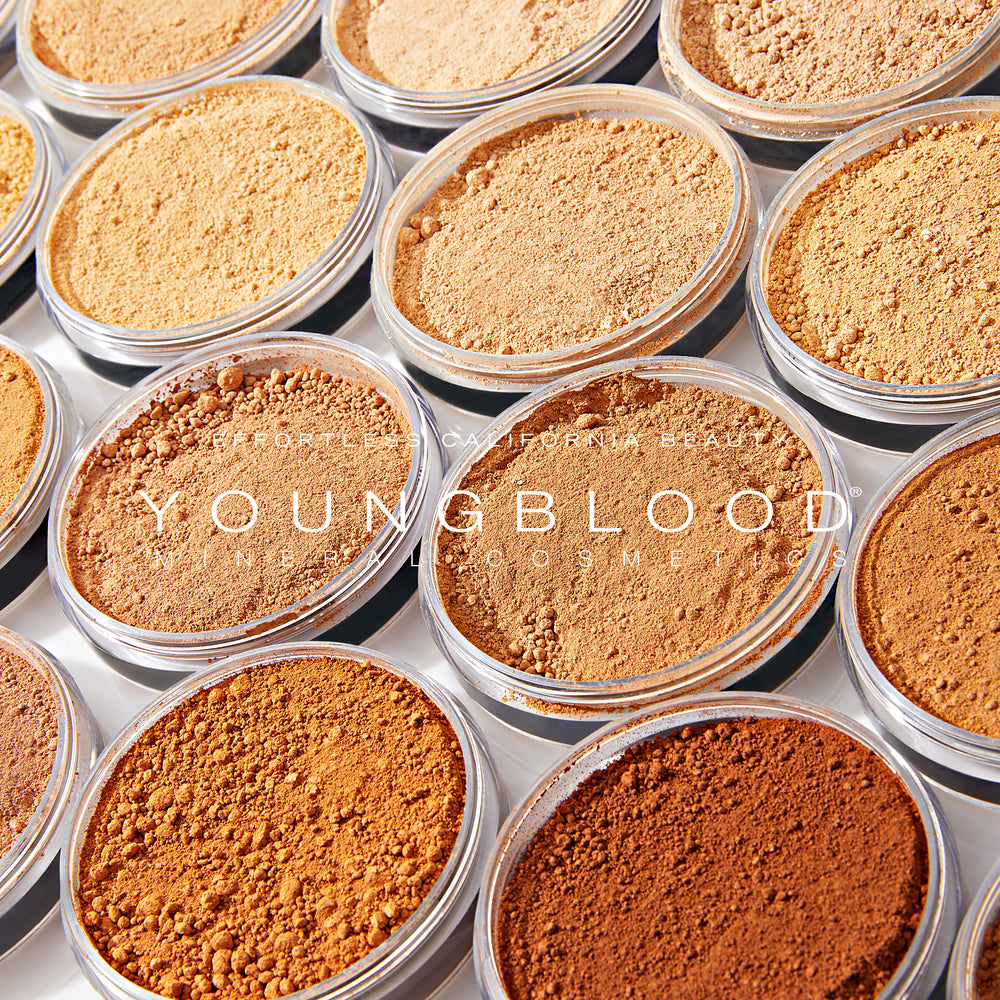 Makeup that doesn't sacrifice your skin…
Gone are the days where you lather on layers of makeup to only dread the moment you take it off at the end of the day to reveal irritated, angry and bothered skin. Makeup that wreaks havoc on our skin is often thanks to a dangerous concoction of what we call "nasties". Such as; talc, perfume, fillers and oil to name a few. Fortunately for you and your skin, our best-selling Loose Mineral Foundation leaves all of these "nasties" and fills it with ingredients that won't only help to cover your skins imperfections – but can actually help to cure these woes instead.
Isn't it time you chose a foundation that doubles as skincare?
Our Loose Mineral Foundation is ultra-fine, flawless and shimmer free. We get a little giddy when we think about it because we've hardly ever come across someone that's tried it and did not love it! Thanks to its perfect blend of skin-loving ingredients and gentle touch, this foundation is suited for all skin types and conditions – especially those who are prone to acne and sensitive skin condition, or post-treatment skin.
Here's what to love about mineral makeup!
Instantly creates a flawless, airbrushed, luminous finish on the skin.
It's 4 products in 1 – foundation, concealer, powder and SPF15!
Contains no nasties (talc, oil, fillers and perfume).
Is non-acnegenic and non-comedogenic.
Suitable to apply after peels, laser, injectables and waxing.
It's lightweight and silky on the skin, hence gives a "no makeup" feel.
It's water resistant, making it perfect for pool days or the beach.
There are 16 shades to choose from to find your perfect match.
It boasts buildable coverage: light, medium to full.
Is mineral makeup better for your skin?
Yes! Unfortunately, when people hear "mineral makeup" they often associate that with foundations that struggle to provide a "full coverage" look. Here at Youngblood, we say otherwise. In Fact, our Loose Mineral Foundation can provide you with just as good coverage as any other traditional makeup brand whilst nourishing the skin instead of harming it!
If one of the reasons you had for not converting to a mineral foundation was because of a fear of a lack of full coverage, this abundance of before and after photos should well and truly put your fears at ease.
​
And here's what some raving fans have to say…
⭐⭐⭐⭐⭐
"My skin loves this foundation! The coverage with the loose mineral foundation can be as light or thick as you require. It adds to the health of my skin rather than feeling like a heavy layer and makes my complexion radian." – Karli W.
⭐⭐⭐⭐⭐
"LOVE this foundation! I suffer from rosacea and this is a light but effective cover and its natural so doesn't harm skin, I love it!" – Janice.
⭐⭐⭐⭐⭐
"Love it! My skin can breathe when I put on a heavy coverage, but I love that I can put on a light coverage when I don't feel like putting on too much – it's very versatile." – Larissa P.
⭐⭐⭐⭐⭐
"I have been using this foundation for years now and by far is my absolute favourite! The mineral foundation has a beautiful lightweight feel on the skin and has excellent coverage which is perfect for my pigmentation." – Liz A.
⭐⭐⭐⭐⭐
"I've been using Youngblood for almost a decade and they keep getting more and more amazing. People always comment on how bright and dewy my skin looks and I love how the mineral foundation feels like I have nothing on my skin. Having had troubled skin in the past, this foundation has been my saviour and I'll never use anything else." – Lucy B.
Endorsed by doctors, skin therapists and makeup artists
It's no surprise why this foundation is endorsed by top skincare professional across the world! It's superior formula and flawless coverage acts as the perfect healthy, lightweight mineral prescription for everyone.
Makeup that helps skin & conceal blemishes
Despite the lightweight application and seemingly ultra-fine mineral formula, Youngblood has powerful capabilities in camouflaging scarring, heavy bruising, birth marks, pigmentation and tattoos. While many other makeup brands claim full coverage, oftentimes the heavy and oil-based foundations they promote under this guise can cause a new array of problems on a client's skin.
Youngblood's Loose Mineral Foundation is highly effective in building up coverage without looking heavy, helping to naturally enhance favourite features, while glossing over blemishes you want to mask.
The ingredient mica – a mineral known for its ability to reflect light and conceal discolouration's on the skin – along with other skin-friendly ingredients work graciously together to uniquely build up superior coverage.'
Makeup perfect for problematic skin; acne, rosacea & sensitive skin
Our Loose Mineral Foundation combats a slew of skin problems. Not only is it kind to sensitive, acneic and allergy-prone skin, it's also non-comedogenic, meaning it won't block pores. Youngblood chooses to leave out heavily clogging ingredients such as the filler talc, that can trigger reactions on sensitive skin and exacerbate acneic breakouts.
This foundation has also been specially formulated to not just cover but also to minimise skin irritation and safely conceal redness common with reactive pores and inflamed skin. The natural mineral formula and ultra-fine micronised crystals adhere to the natural oils in skin instead of sinking into pores, allowing skin to breathe and function normally.
From the first moment your brush on your Youngblood Loose Mineral Foundation, you'll noticed the incredibly silky feel and a polished, natural finish. Clean and lightweight, it allows skin to breathe and is non-comedogenic. Even with our flawless coverage, you'll feel like you're wearing no makeup at all. And unlike other mineral foundations, Youngblood never looks 'glittery', 'flat' or 'powdery', and instead you'll radiate a natural, healthy glow.
A concealer, foundation and powder all in one – shop our Loose Mineral Foundation today.
Back to Blog