Sundance Mineral Radiance is Back in Stock: Embrace Radiant Beauty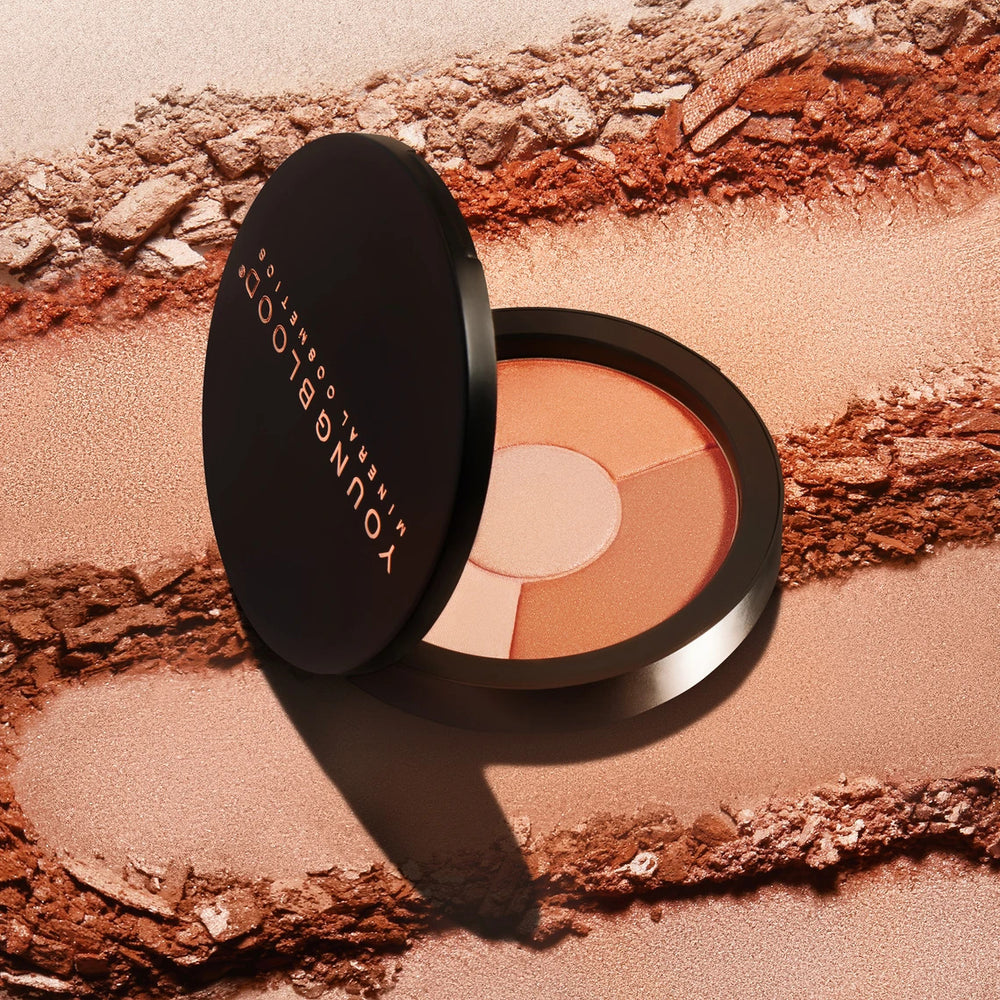 Attention, makeup enthusiasts! Get ready to bask in the warmth of the sun as one of our most popular & highly sought-after products, Mineral Radiance in shade Sundance returns! After an extended period of anticipation and high demand, we are thrilled to announce that our beloved Sundance Mineral Radiance is back in stock, just in time for the radiant days of summer.
This iconic bronzer is known for its ability to deliver the ultimate triple-threat of a light-infused pressed blush, bronzer, and highlighter in one convenient compact. Brightening and creating subtle highlights on the skin, our Sundance Mineral Radiance boasts an ultra-light and super silky texture to give your complexion a sun-kissed glow.
Keep reading to discover why our Sundance Mineral Radiance has become a staple for beauty enthusiasts and explore its unique features that make it a must-have for your daily makeup routine…
The Allure of the Youngblood Cosmetics Mineral Radiance in shade, Sundance
Youngblood's Sundance Mineral Radiance has gained a cult following for its ability to create a natural-looking, bronzed glow and a luminous finish that enhances your natural beauty. It is a talc-free, mineral-based bronzer that offers a wide range of benefits for your skin.
Here's what makes it so special:
Natural and Skin-Loving Ingredients:
Youngblood Mineral Cosmetics is renowned for its commitment to using high-quality, natural ingredients in their products. Sundance Mineral Radiance is no exception.
It is infused with a blend of minerals, including Mica and Sericite, which provide a smooth and lightweight texture, while Jojoba Seed Oil and Vitamin E nourish and protect your skin. These ingredients work together to ensure that your skin not only looks beautiful but also feels healthy.
Versatile Shades:
Sundance Mineral Radiance offers four stunning shades in the one convenient compact to suit different skin tones, allowing you to achieve a customised sun-kissed look. Whether you have fair or deep skin, this fan-favourite has carefully crafted shades that blend seamlessly and give you a natural-looking radiance.
Buildable Coverage:
One of the standout features of Sundance Mineral Radiance is its buildable coverage. The finely milled powder allows you to layer the product for a subtle glow or build it up for a more intense, bronzed effect. This versatility makes it ideal for creating various makeup looks, from a light daytime glow to a glamorous evening look.


How to Use Youngblood's Mineral Radiance
To achieve a radiant and sun-kissed look with Sundance Mineral Radiance, follow these simple steps:
Preparing the Canvas: Start with a clean and moisturised face. Apply your regular skincare products and allow them to absorb fully before moving on to makeup application.
Foundation/Base: Apply your preferred foundation or tinted moisturiser and blend it seamlessly into your skin for an even base.
Bronzer Application: Using a large, fluffy brush, swirl it gently in the Mineral Radiance Sundance pan to pick up a small amount of product. Tap off any excess and apply the bronzer in a sweeping motion to areas of the face where the sun naturally hits, such as the forehead, temples, cheeks, and jawline. Remember to blend the product well to avoid any harsh lines.
Build and Adjust: If desired, repeat step three to intensify the colour and achieve your desired level of radiance. Remember to go slowly and build up the product gradually to avoid overdoing it.
Finishing Touches: Complete your makeup look with other products such as lipstick and mascara to enhance your features further and create a well-rounded, finished look!
Grab your makeup brushes and get ready to embrace radiant beauty with our Sundance Mineral Radiance! This highly sought-after bronzer is a must-have in your daily makeup routine, especially as we head into summer!
Back to Blog