6 Unexpected Benefits of Mineral Makeup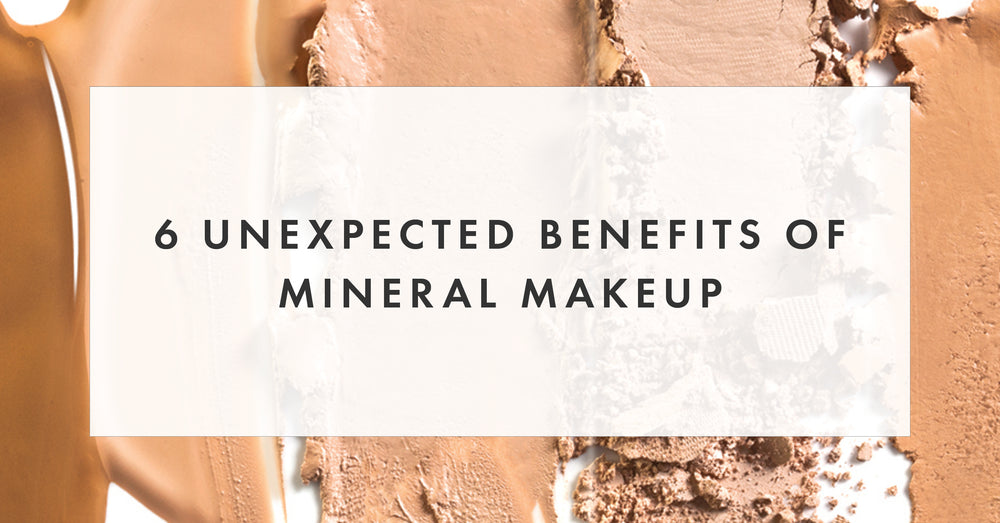 Once upon a time, foundation was designed to mask the face in a thick (and usually cakey) layer of colour. These days, however, we've come to expect so much more from our makeup – and mineral formulas are leading the way in what a foundation can (and should) offer. Sure, you'll get buildable coverage and a flawless finish – that much is a given – but here are six more benefits of mineral makeup that you might not know about.
1. It won't irritate your skin
Many traditional cosmetics contain synthetic ingredients, chemicals and fragrances that can irritate and aggravate your complexion. Ironic, isn't it, that the product you're using to make your skin look better could be the very thing that's causing it to freak out in the first place? On the other hand, mineral makeup from Youngblood is free from talc, fillers and synthetic ingredients such as mineral oil, petroleum and artificial fragrances.
In fact, our Loose Mineral Foundation is made from 100 per cent natural minerals, so you'll always know exactly what you're putting on your skin. This is the reason we can confidently say that it's suitable for all skin types, include sensitive or reactive complexions, and for those with rosacea.
2. It helps keep your complexion clear
Not only is mineral makeup kind to sensitive and allergy-prone skin, it's also non-comedogenic, meaning it won't block pores, which can lead to blemishes and breakouts. If you regularly experience congestion or acne, a non-comedogenic formula should be an absolute must for any skincare or makeup you use.
Alternatively, if dry or dehydrated skin is your main concern, mineral makeup can also help keep it clear and calm. Liquid Mineral Foundation contains hydrating ingredients such as deep-sea mineral water, calendula and green tea, to protect and nourish the skin.
3. You can use it after a facial treatment
Facial peels, microdermabrasion and IPL all leave your skin glowing – eventually. But in the short term, exiting the salon with telltale red or blotchy skin isn't exactly appealing.
Fortunately, a good quality mineral makeup can be applied straight after a facial treatment – it can even be used after certain surgeries. Not only will it conceal any redness, it actually helps to heal the skin, too. You can find a list of salons that stock Youngblood here, so you know you'll always be covered (literally!) before you head out the door.
4. It's great for natural contouring
The trend for over-the-top contouring and blinding strobe highlighter might be over, but that doesn't mean you can't use the technique to define your cheekbones or brighten the area under your eyes. For a more natural-looking way to contour and highlight, we love to use Liquid Mineral Foundation in a trio of shades – one that perfectly matches your complexion, as well as shades that are slightly lighter and slightly darker.
Use the darker one like a bronzer to shade and deepen, and the lighter colour to highlight. For more tips on using foundation to contour, check out this article, which breaks down the technique into easy-to-follow steps.
5. Extra sun protection
Although we'll always advocate wearing a separate SPF when you're outdoors, any extra sun protection is only a good thing! And you don't need to look far to find it in mineral makeup as one of the key ingredients is titanium dioxide, which provides a natural filter from the sun.
Youngblood doesn't give its products a sun protection factor (SPF),  but lab tests suggest the loose and liquid foundations are comparable to at least an SPF 15.
6. You'll always find your perfect shade match
We get it: there's nothing more irritating than finding a foundation you love, but that just isn't the right colour for your skin tone. The beauty of the Loose Mineral Foundation is that it's simple to blend two different shades in an empty container to customise your own colour that's a perfect match in every way.
That's why our face range has more than 50 shades across the loose powder, liquid, creme and tinted formulas. Yep, that's 5-0.
Back to Blog