The best makeup routine for rosacea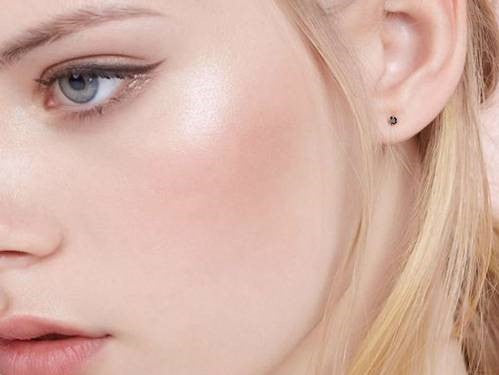 A relatively common skin condition, rosacea is a chronic disorder of the facial skin that is often characterized by skin redness, hot facial flushing and skin sensitivity. More common in women than in men, onset typically begins after age 30 and presents as transient flushing or redness on the cheeks, nose, chin or forehead. Over time the redness tends to become more persistent, small blood vessels may appear and without treatment bumps and pimples often develop. While medical therapy such as oral medication, topical creams and laser treatment can address the underlying physiological aspects of rosacea, makeup is a quick and easy way to instantly improve the look of your skin and boost your self-confidence! That said, suitable makeup that can cover the redness can be hard to find. We've compiled some tips to help you look and feel your best if you suffer from rosacea or redness.
First and foremost, always opt for mineral makeup as the natural minerals are less likely to irritate sensitive, rosacea-prone skin than chemical-laden makeup.
1. Skincare comes first
Before applying your makeup it's vital to have a clean base, so make sure you gently cleanse and lightly moisturise with targeted rosacea products. Always remember to repeat this cleansing step once you've removed your makeup for the day, and follow with a rich moisturizer that will rehydrate your skin overnight.
2. Prime your face
After moisturizing with a lightweight product we recommend applying Youngblood's CC Perfecting Primer to reduce redness and blur any ruddiness or uneven skin tone you may have.
3. Ace your base
Once your primer has set, apply Youngblood's Liquid Mineral Foundation or Loose Mineral Foundation.
Take care when applying liquid foundation, and gently press and pat the formula onto your skin to avoid irritating your skin and increasing redness. We recommend using a beauty blender or our Liquid Foundation Brush to achieve an even and natural finish whilst stopping any redness peeking through.
If applying powder foundation, very gently buff and sweep a Kabuki Brush across the surface of your skin, using the base of the brush over large areas (cheeks and forehead) and the edge for areas around the nose and eyes.
4. Go easy on the blush
Since those with rosacea are generally trying to cover up facial redness it's very important that you don't overdo it with blush. Opt for our Pressed Mineral Blush and lightly sweep over the apple of the cheeks towards the temple. Remember, less is more!
5. Gentle Eye makeup
Because rosacea sufferers often have sensitive skin, it's important to use eye makeup that's easy to remove and won't cause irritation from hard scrubbing. For this reason, we suggest Youngblood's Outrageous Lashes Mineral Lengthening Mascara and the Eye-mazing Liquid Liner Pen – both products that come off easily with our Micellar Water with Colloidal Silver. Anti-microbial and anti-inflammatory, our micellar water is perfect for rosacea-prone skin and works to moisturize and repair skin as it removes makeup and impurities.
6. Go for nude lips
Rosacea shouldn't mean you can't have fun with your makeup looks, but we generally recommend nude shades as red lipstick may enhance the red undertone in your skin. Universally flattering, we love our range of ultra-moisturising Color Crays Lip Sheer Crayons that deliver a sheer wash of radiant colour in five wearable shades!
Back to Blog